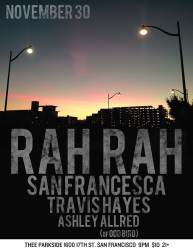 RAH RAH, SAN FRANCESCA,TRAVIS HAYES, ASHLEY ALLRED (of Odd Bird)
Time: 9:00pm Day: Friday Ages: 21+ Ages Price: $10
This Event Has Ended
Rah Rah - Autumn 2012 sees the release of The Poet's Dead, the third and most accomplished album to date by Regina, SK sextet Rah Rah. Building on the strong foundation of their last release, the critically acclaimed and iTunes Canada championed Breaking Hearts, this new ten song effort effectively captures a band at the peak of their abilities doing what they do best. The members of Rah Rah share a collective mentality, taking turns taking the lead, both in songwriting and while on stage. The melodic male/female vocals and shared instrumentation traded off seamlessly (Erin Passmore and Jeff Romanyk both play drums, keyboards and guitar, while Kristina Hedlund plays violin, keyboards and accordion), plus a true level of fun throughout ensures that a Rah Rah show will not disappoint. Rah Rah was crowned "Best New Canadian Band" and "Best New Alternative Band" by iTunes Canada in 2009. The band's songs have also been featured as iTunes Single of the Week and Starbucks Pick of the Week in Canada. The band has toured incessantly behind their previous two albums, sharing tours with the likes of Minus The Bear in Canada and USA, Wintersleep in Europe and Canada, and label-mates Said The Whale.
San Francesca - San Jose's San Francesca have a new album out on Side With Us Records called We Live In Public. The band says that the sound they were trying to capture with the new album was "something frantic… what it sounds like to live in a world where you have 1000 things competing for your attention." We Live In Public is the band's first release with a full-time drummer. Now a three-piece, San Francesca is making some layered, textural music that doesn't fit easily into any genre categorization. "With so much of indie rock focused on recreating sounds of the past, we'd rather try to make something that sounds more futurist," says the band. "We try to incorporate different genres into what we're doing, to create something unique in the crowded indie rock scene."
Travis Hayes - San Francisco transplant, Northern California singer/songwriter Travis Hayes has been sharing his brand of direct and heartfelt storytelling for nearly a decade now. In addition to writing and performing he spends his free time drinking whiskey and riding public transit through the late night hours.
www.facebook.com/iamtravishayes
Ashley Allred (of Odd Bird) - The origins of Odd Bird are far from haphazard; the indie-folk group, which has been on the musical radar for a short while beyond the one-year mark, was – more than anything – a natural overlapping of borders, a melding of souls, manifesting itself to the listener as something soft, pure and unequivocally sincere. The collaboration is bounded by singer-songwriter Ashley Allred and a few of her closest companions, with the ties between the members apparent in the warmth and coziness the music embodies. There is an ethereal, innocent whimsy to the music the four play, which compliments the sense of simple wonder contained in the lyrics Allred pens.
www.facebook.com/pages/odd-bird/255531401274