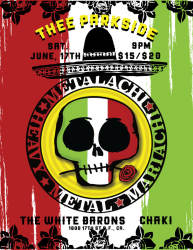 Metalachi, The White Barons, Chaki
Time: 9:00pm Day: Saturday Ages: 21+ Ages Price: $15
This Event Has Ended
Metalachi
On a hot, hot summer night in Veracruz Mexico circa 1982, Consuela Espinoza stumbled out of her dilapidated shanty and into Rock N Roll history. What began as an innocent night of snorting horse tranquilzers in a hotel room with seven members of the village jai alai team went on to produce the greatest metal band to ever live. Unhampered by a steady regime of tequila and ill advised sumo lessons, nine months later five bastard children where born. Unable to care for her hungry offspring and concerned that motherhood would seriously interfere with her Tuesday night Karaoke league, Consuela hastily packed the babies into the saddlebags of a burro and sent her children off to America in search of a better life. Against all odds, 14 years later, and nearly dead from dehydration, the burro knelt down to drink from the stagnant waters of the Rio Grande just ouside of Juarez Mexico –mere yards from the U.S. border. With one fleeting burst of energy the brothers Espinoza cinco climbed from their leather restraints and scampered the vast reach of the river, collapsing onto the sweet amber hue of American soil. As if by destiny, lodged in the sand beneath their tanned faces was a record sleeve upon which were the words "PARANOID" and "BLACK SABBATH". For many years to follow, this definitive black metal album served not only as a teacher and a mentor..but also as a friend. From these bleak and humble begins grew the seed that would eventually be the band we know today. Often referred to as the greatest heavy metal band to ever live..always referred to as…METALACHI.
The White Barons 
Ah, the White Barons. The fuckin' White Barons. They were a marketing machine of dubious T-shirt messages — rolled bills, razor blades, powder piles, and crossed keys — before they played their first show, and if I didn't know von Slut from Thee Merry Widows, I might've been reticent to check them out: bands who have their swag down pat before playing out usually blow their nut before anything exciting happens. 

Not so with the WBs. With von Slut on vocals, Baron Johnny One Eye and Nate von Wahnsinn from the Whiskey Dick Darryls on guitar and bass, respectively, and Baron Adam von Keys, formerly of All Bets Off, on drums, the group was pretty much a lock to achieve rock 'n' roll juggernaut status before playing a note. 

Sure enough, when I caught them opening for the Dwarves during Noise Pop, though I thought I knew what to expect, I was laid out by their raw-boned punk 'n' roll brutality. I don't mean to blow too much smoke up her ass, 'cause I'll have to live with it when I see her around town, but von Slut's got some goddamned pipes, like a '65 Triumph chopper without mufflers, like Glenn Danzig if he drank more whiskey and weren't three feet tall. Her vocals with the Barons are nothing like they are with the Widows: stripped of the comparatively genteel stylings of psychobilly, they range from a throaty wail to a flesh-peeling scream. Perhaps more surprising is that underneath the band's power lurk solid hooks, as evidenced on this year's Gearhead debut, Up All Night with the White Barons. The songs range from broken-hearted barnstormers like the opener, "You Never Were," with bassist Nate's hilarious mongo-gorilla background grunts, to a battery of unapologetic drinkin' and druggin' party anthems — "Wicked Ways," "Champagne & Cocaine," and "How High." 

So are the White Barons a one-trick-pony party band? Do you need a key bump and a shot of Jack to smell what they're cookin'? I'd say no. In a town where people front so-called rock groups while sitting in chairs, where the vocalist's outfit is often (intentionally) more memorable than the music, where freak folk acoustic scruffy beards in their grandpa's shuffleboard action slacks have elbowed out the rock 'n' roll impulse, the Barons hearken back to a time when seeing a band live was like a good, honest fistfight, not a chess game with Noam Chomsky. 
gearheadrecords.com/white-barons
Chaki 
Solo project of infinite madness by the insurmountable Cory Sklar.