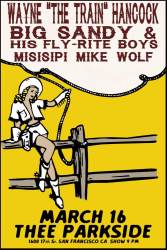 Big Sandy & His Fly-Rite Boys, Wayne "The Train" Hancock, Misisipi Mike Wolf
Time: 9:00pm Day: Thursday Ages: 21+ Ages Price: $20
This Event Has Ended
Big Sandy & His Fly-Rite Boys
Over the last three decades, Big Sandy and his Fly-Rite Boys have kept up a constant cycle of traveling back and forth across the lower 48, then hopping across the pond to Europe and beyond. They bring with them a brand of American music that has earned them an induction into the Rockabilly Hall of Fame, several national television appearances, guest spots on The Grand Ole Opry, and a slew of adoring fans.
"I truly love being out on the road, and I feel blessed to have the opportunity to sing my songs all over the world," said Sandy. "But when I'm away from the U.S. for too long, it's like I need a recharge... like I need a solid dose of everything Americana. Give me a Chuck Berry song while rolling down the interstate, or a truck stop conversation with a waitress who once danced with Lefty Frizzell, and I'm good for another three thousand miles".
Wayne "The Train" Hancock
Since his stunning debut, Thunderstorms and Neon Signs in 1995, Wayne "The Train" Hancock has been the undisputed king of Juke Joint Swing - that alchemist's dream of honky-tonk, western swing, blues, Texas rockabilly and big band. Always an anomaly among his country music peers, Wayne's uncompromising interpretation of the music he loves is in fact what defines him: steeped in traditional but never "retro;" bare bones but bone shaking; hardcore but with a swing.
Like the comfortable crackle of a Wurlitzer 45 jukebox, Wayne is the embodiment of genuine, house rocking, hillbilly boogie. Wayne makes music fit for any road house anywhere. With his unmistakable voice, The Train's reckless honky-tonk can move the dead. If you see him live (and he is ALWAYS touring), you'll surely work up some sweat stains on that snazzy Rayon shirt you're wearing. If you buy his records, you'll be rolling up your carpets, spreading sawdust on the hardwood floor, and dancing until the downstairs neighbors are banging their brooms on the ceiling. Call him a throwback if you want, but all Wayne Hancock wants to do, is simply ENTERTAIN you, and what's wrong with that?
Misisipi Mike Wolf 
is an American singer, songwriter and musician. He currently resides in San Francisco, Calif.. His music has been compared to that of Johnny Cash, Willie Nelson and Waylon Jennings. His music has been featured on nationally broadcast radio and television and has been twice voted as "Best Singer/Songwriter" by readers of the San Francisco Bay Guardian.