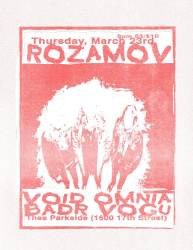 Rozamov, Void Omnia, Bädr Vogu
Time: 9:00pm Day: Thursday Ages: 21+ Ages Price: $8
This Event Has Ended
Rozamov is a sludge metal band from Boston, Massachusetts. Utilizing hardcore, doom, and atmospheric elements, ROZAMOV create a sound reminiscent of the bleak power of Neurosis, Yob and Grief.
ROZAMOV has released two self-produced EP's and toured the Midwest and East Coast over the past two years. The band is now in the process of writing their debut full length album and will tour extensively in 2015.
Void Omnia 
Bädr Vogu is a sludge/doom/crust metal band hailing from Oakland, California that was formed in late 2009. Armed with a strong DIY ethic, they have steadily built an underground following in the States through incessant touring and a spattering of releases including a self-released demo (2010), a full-length called Exitium (2011), a split LP with Seattle based death/crust outfit Wilt (2012), and a tour tape/demo titled Agglomeration MMXIV released through Transylvanian Tapes (2014). They have also established a sizable following in Europe from the release and distribution of their debut album through the Spanish death/doom label Memento Mori.

Bädr Vogu arose out of mutual friendships in the Bay Area heavy music scene and set out with the intention of creating music that would stand up to the high level of talent and integrity existent in the region's underground music scene. They are influenced by local luminaries such as Noothgrush, Dystopia, Neurosis, Sleep/Asbestos Death, Stormcrow, and Brainoil; but they also deftly infuse their sound with the bluesy swagger of the American South, conjuring forth the swampy sounds of Eyehategod, Weedeater, and Buzzov-en. Their brutal concoction is then encased in a solidified crust of filthy death/doom that has an underlying punk/hardcore backbone.

Bädr Vogu is comprised of Sean Sokol on vocals/samples, Bryce Shelton and Leo Buckley on guitars, Justin Wonder on drums, and Chris Tanti on bass. These native Californians have had a long, incestuous history of involvement in the underground music scene in the Bay Area and have been involved with numerous other groups such as Hotblack Desiato, World Eater, Agenda of Swine, Hazzard's Cure, Ordo Obsidium, Dolph Lundgren, and Nik Turner's Hawkwind, to name only a few. Following on the heels of their split 12" LP with Wilt (released on Hermit and Abominate Records), they have been steadily writing and preparing new songs for their upcoming second full length album, which will be recorded in March 2015 at Earhammer studios in Oakland by Greg Wilkinson. Their new material cohesively blends their strongest points into a massive and uncompromising slew of new songs that they feel are their most compelling and ferocious to date. 

Amidst their songwriting, Bädr Vogu has remained diligent in maintaining a consistent touring schedule on top of playing out locally. They have done two full US tours and a plethora of smaller regional trips up and down the West Coast and the Southwest. 2015 proves to be no different for them as they have already completed a full West Coast tour and have a string of upcoming shows lined up all throughout California and the Pacific Northwest, including appearances this summer at "California Crust-Stock" in Los Angeles, Oakland's "Dead-Fest", and Seattle's "Distress Fest". With the new album around the corner, they plan to tour extensively in support of its release both in the United States as well as abroad. Bädr Vogu has shared the stage with such heavy hitters as: Eyehategod, Black Cobra, Oathbreaker, Pallbearer, Brainoil, Samothrace, Sea of Bones, Bell Witch, Thou, Seven Sisters of Sleep, Undergang, Graves At Sea, Laudanum, Gehenna, Full of Hell, Weedeater, Noothgrush, Impaled, Hell, Atriarch, and Usnea.