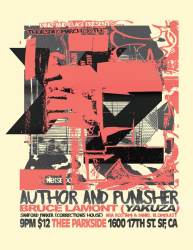 Author & Punisher, Bruce Lamont, Sanford Parker, Aria Rostami & Daniel Blomquist
Time: 9:00pm Day: Thursday Doors: 9:00pm Ages: 21+ Ages Price: $12
This Event Has Ended
Author & Punisher named, "one of the most prolific acts in aggressive music," by Noisey, continues to tour in support of latest full-length Melk En Honing, released last year via Housecore Records. The record was listed among Decibel Magazine's Top 40 Albums Of 2015 and he is currently well into writing his new album as well as a new setup of machines. After leaving a career as mechanical engineer in Boston to focus on art and sculpture, Tristan Shone, the creator and sole artist behind AUTHOR & PUNISHER, moved west to pursue his MFA in Southern California. In the metal and machine shops of University of California, San Diego, Shone forged a relationship with design, sound and fabrication that ultimately yielded AUTHOR & PUNISHER's first music and mapped the journey away from traditional instrumentation towards custom made, precision machinery.
Shone used his technical knowledge, along with his artistic background to create what Wired Magazine has hailed as his own "special brand of doom metal." All aspects of the AUTHOR & PUNISHER sound begin with physical movement, limbs struggling in unison to coordinate a wall of electronic rhythm and oscillation, ultimately conditioned by an organic and loose quality absent of sequencing and plastic perfection. AUTHOR & PUNISHER performances are a real amalgamation between man and mechanisms. They are direct, physical, heavy experiences that have amassed praise and intrigue from a wide array of audiences. Pitchfork styled him "immediate but mysterious," Stereogum described his "chilling, unrecognizable form," and NPR hails him as "a thrill [who] fires on all cylinders."
Bruce Lamont 
Solo project of Bruce Lamont from the avant garde metal band Yakuza.
soundcloud.com/at-a-loss-recordings/bruce-lamont-2-then-the-3
Sanford Parker 
Aria Rostami & Daniel Blomquist are from San Francisco, CA. Rostami and Blomquist's work occurs at two stages, the gathering/preparation of source material and the live performance. Primarily, Rostami and Blomquist's source material focuses on, digital information and the exchange of that information, repetition and decay, and non-involvement or surrendering aspects of creative control. Some of the piano recordings were created by answering a simple questionnaire Rostami made that uses letters, colors, numbers, major verse minor, and picking between flat, natural and sharp to create a framework for a composition. After the framework is created, Rostami creates a song on the piano, records and sends it to Blomquist who in turn manipulates it. In some cases, Rostami recorded the material using the audio recording option for the app Viber. Rostami used Viber to communicate with a friend who was visiting Iran. Since he had asked her to fill out the survey through the app, he also recorded the material through the low quality recording interface. Sometimes this material is thrown back and forth and sometimes it's processed only once or barely touched. The recording is then turned into a loop and recorded to tape.
This system was developed to surrender control and allow the origin of the composition to come from somewhere else much like field recordings or sampling does (two other ways Rostami and Blomquist gather source material.).Time, entropy, and decay are central factors in Rostami and Blomquist's work. For live performances Blomquist works with samples gathered and manipulated digitally and then dubbed to analog tape, reconstituting the quality and predictability of the digital source material. By using loops, Blomquist can take a short audio clip and concentrate on processing it live and allow for improvised changes to that recording over long periods of time. Rostami adds in an extra layer of drones, fuzz, melodic ambience and crescendos with his synthesizer. Their compositions explore dynamic relations between digital and analog sound creating quiet transitions and soaring peaks.