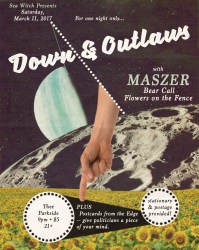 Sea Witch Presents:
Down & Outlaws, Maszer (members of Reignwolf), Bear Call, Flowers on The Fence
Time: 9:00pm Day: Saturday Ages: 21+ Ages Price: $5
This Event Has Ended
Sea Witch Presents:
Down & Outlaws 
To Down and Outlaws, it's obvious and unavoidable. But apparently an all-for-one philosophy of songwriting and identity is an anomaly in the modern era of music.

Recorded in a marathon one-week session at Studio 606, "Above Snakes" finds San Francisco's Down and Outlaws fine-tuning their place musically and striving to channel the restless, pissed off spirits of rock and roll history.

As Above Snakes -- an old west term meaning "still alive" -- suggests, the band believes in music that's fresh, yet pleasantly unpolished; brash, but wary; accessible, but never cheap.

In "I Don't Care," Peter Danzig proclaims: "I'm a sickness/ I'm a cheat/ I don't care if I feel a thing." And the whole band joins in to scream the title line with an urgency that proves just the opposite.

With appearances at Outsidelands, SXSW, Noise Pop, and Echo Park Rising under their belt, the band's show is the source and primary outlet of that urgency. A friend recently commented, "I've been trying to record your set for months, but you're too fuckin' loud!" This music is based on freedom and escape from everything else that drags you down, if only for 40 minutes.

"Raw energy, blistering guitar leads and dirty vocals over thick bass lines and driving drums. Though their aesthetic is dark and brooding, they write songs that are smartly accessible." — San Franpsycho (Bands You Need to Know)
Maszer (Members of Reignwolf)
From guttered with tears in a 70's van to the glorious nights under the moon we bring you MASZER! New LP coming 2017!
Bear Call 
A skewed sense of romanticism, love for cheap alcohol (though only because it is all that is affordable) and a fear of wasting youth, Skyler Warren started Bear Call alone in his bedroom in late 2011. Three years and a number of failed attempts and broken hearts later, something resembling a real band was formed with the help of Nikk Moreno and Eric "Moose knucks" Mohammed. Together, these three lads are attempting to go the distance and capture the lo-fi sound that no one in San Francisco (except for everyone in the mid 2000s) has captured before before. Fuzzy, reverb drenched guitars? Check. Driving, heavy bass? Check. Loud, hard hitting drums? Check. Lyrics about love, frustration, and pissing yourself in a one night stands bed? Check. Drawing influence from San Francisco garage rock heroes like Thee Oh Sees and Ty Segall, Bear Call is searching for a way to stay 20-something forever while evading all responsibility and forever chasing an excuse to wake up hungover. You are all welcome along for the ride, especially you, Mom.
Flowers On The Fence
modern emotional rock band from San Francisco.
Sea Witch Presents is launching the Postcards from the Edge letter writing series to encourage everyone to contact their local politicians, senators and lawmakers about shit that matters! We'll have a writing station set up on the patio and a list of names, addresses, and causes that you can choose from. Postage and stamps will be provided! All you need to do is bring a piece of your mind. Give a damn, rock and roll.
Facebook Event Page:
facebook.com/events/207656493041540