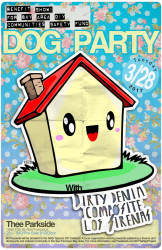 Benefit Show For Bay Area DIY Communities Safety Fund
w/ Dog Party, Dirty Denim, Composite, Los Sirenas
Time: 8:00pm Day: Tuesday Ages: 21+ Ages Price: $10
This Event Has Ended
Benefit Show For Bay Area DIY Communities Safety Fund
All proceeds will be donated to the Safer Spaces DIY Oakland. A local organization working towards sustaining a diverse and strong arts and cultural community in the San Francisco Bay Area.
"Alternative DIY spaces are invaluable sites for social alliance, activism, artistic growth, and creative production. Those who live and work in these spaces have gone to great lengths to create affordable, supportive, and productive environments otherwise unavailable in conventional housing and cultural venues. The DIY Communities Safety Fund offers financial assistance to individuals and groups that face immediate housing and safety crises and works to stabilize alternative spaces. The Fund covers safety supplies and improvements, permit and construction costs, legal fees, and relocation expenses for those facing displacement."
Link to their Facebook page:
You can also donate here:
youcaring.com/diycommunitiesinthesanfranciscobayarea-718436

Dog Party Catchy melodies, tight harmonies, fuzz pedals and big drums; what more could you possibly want in a rock and roll band? Formed in 2007 by sisters Gwennie and Lucy Giles, the duo draws influence from the classic sounds of the Ramones as well as contemporaries Ty Segall to synthesize their own unique style. Careful listeners will also notice a nod to bands like Cub and Tiger Trap, the former of Sacramento, CA lineage as well.
Adding a recent tour with Swimmers to their tour credentials that already include tour dates in Germany, Switzerland, Austria, Italy, France, and across the Unites States. Dog Party will be hitting the road all summer, including two Southern California Burger Records showcases. 
Both play a multitude of instruments, but their live show consists of Lucy on drums and Gwendolyn on guitar with both sisters sharing lead vocal duties. The Dog Party live show owes a debt of influence to old Bikini Kill footage they both have absorbed, and also Sex Bob-omb — that's right, the fictional band from the cult comic book series Scott Pilgrim vs. the World. They have an uncanny ability to incite nostalgic awe in older audience members, while fueling the fire of frenzied dancing in the younger ones.
Dirty Denim
Combining obscure sixties garage with 50's/60's girl rock and garage punk, all girl trio Dirty Denim bring a refreshing bit of fan fetishism to the impetus of sleazy rock 'n roll. After guitarist and lead singer Katie Rose (BOMP! Records baby of les Hell on Heels) migrated down to San Francisco from Portland, Oregon with bassist Laura Svec, they eventually joined with drummer Raquel Reyes (The Peppermints) to form Dirty Denim. They swiftly made their mark in the North Bay area gigging with local and touring bands at S.F. venues such as; Great American Music Hall, Rickshaw Stop and Bottom of the Hill. This year (2016) they added a fourth badass, Niki Kangas, who juggles keyboard, guitar and tambourine.
Dirty Denim doubled down with explosive keys, catchy riffs and backup gang vocals that are impossible not to sing. Watching them go from 3 shy girls nervously giggling into microphones... to an all out WILDFIRE on stage has captivated me. Always obsessed to see what they'll do next and literally twitching to hear their FIRST FULL LENGTH RECORD (set to release this year)... I wait impatiently. Dirty Denim is now headlining local shows and supporting great bands like, The Coathangers, The Birth Defects, Shannon & the Clams and many others. These are four of the hardest working women in the industry, so catch these busy bees any time you can! They're impossible to tie down!!(well...figuratively) -Bob Cantu
Composite 
"Composite is a group of witches out to curse fascists with our chorus-drenched noise and driving melodies. Ritual sacrifice encouraged but not required to fully enjoy our sonic experience."
Los Sirenas is a band of queer women of color who were brought together with the guidance of their generous ancestors. This trio creates a musical sacred space on stage and plays to communities that are battling against homophobia, misogyny and white supremacy. LS's fierce expressions call out to empower their sexual and political identities while venting turbulent moments of heart break. Their sound is described as a political neo soul remix with saxophone accents, earth roots and raw vocals.