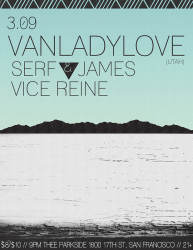 VanLadyLove, Serf & James, Vice Reine
Time: 9:00pm Day: Thursday Ages: 21+ Ages Price: $8
This Event Has Ended
VanLadyLove Sometimes in the still and motionless moments on the road, when you sit and watch the sky turn dark in the distance, a quiet reminder comes: if suddenly it all ended tomorrow, and the bright lights and neon signs went dim, all we really need, and all we ever truly needed was van, a good lady, and a whole lot of love.
VanLadyLove Hails from Provo Utah, home of bands such as Neon Trees, Imagine Dragons, Joshua James, The Used, Isaac Russell, Fictionist, and others. 

Recently VanLadyLove won the "#1 Artist on the Verge 2014" award, a national honor given by a team of A&R scouts, taste-makers, and industry professionals at the New Music Seminar in New York City. They also recently won two Utah Music Awards in 2014 including the top honor of "Album of the Year" for Love Matter; the bands debut EP. 

Love Matter also charted on iTunes and several songs from the EP have had placements on national television.

The members of VanLadyLove pride themselves on sincere song-writing, lyrics and an engaging live performance. They are often compared to some of the worlds largest acts such as Imagine Dragons, Young the Giant, the Neighborhood, Cage the Elephant, the Killers, Neon Trees and Maroon 5.
Serf & James
We enjoy traveling through music and bringing along those who wish to be a part of the adventure.... It's about the music.
Vice Reine is an SF electronic band that melds synthpop, electroclash, & sci-fi into an exciting live show that glides the line between OUTER SPACE & IN YOUR FACE.