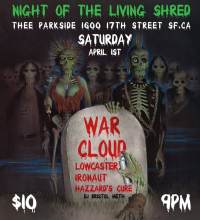 NIGHT OF THE LIVING SHRED
War Cloud, Lowcaster, Ironaut (LA) Hazzard's Cure
DJ Bongripper Bristol Meth
Time: 9:00pm Day: Saturday Ages: 21+ Ages Price: $10
This Event Has Ended
War Cloud
Lowcaster
Like an ancient old-growth redwood standing alone in a field of industrial decimation, Lowcaster is one of few heavy acts left towering in San Francisco's deforested music scene. From doom to thrash metal, from hardcore-punk to psyche, the deepest dirt crusted roots of Bay Area underground music have nourished their massive sound. 
Ironaut (LA) is a Stoner Thrash band based in Los Angeles, California formed in early winter of 2015 featuring Erik Kluiber (ex-guitar Gypsyhawk and White Wizzard) on bass and vocals, Pat McHugh on guitar and Ivan Najor or drums. The trio began playing out as an instrumental band before Erik took over vocal duty in summer of 2016 and the group prepared to record it's first EP with producer Paul Fig (Alice in Chains, Ghost, Stone Sour)
Ironaut's self titled debut 5 song EP was released on CD and digital format December 1st of 2015 featuring the songs "Horned Goat", "Yellow King", "Acid Wash", "Atomic Voyage", and"The Dead Look In My Eyes". The band spent most of 2016 performing live around Southern California sharing the stage with acts including Pentagram, The Obsessed, Karma to Burn, Widower, Beastmaker, Monolord, Holy Grail, Fireball Ministry, Taipan, Black Tusk, Sweat Lodge, The Well, Taarkus, Monlolith, Blackwulf, and the Great Electric Quest. 

Hazzard's Cure
Clint (drums), Chris (guitar) and Leo (guitar) began developing new material for their post Orb Of Confusion project, eventually recruiting Shane (Walken, Magic Moments) on bass. They played their first show as Hazzard's Cure on February 7th, 2010, and released a three song demo just in time for their April 2010 West Coast Tour. 

Their first debut album was released as a limited pressing on Lummox Records and Stop Go Destroy Tapes in October 2011, to critical acclaim. Currently planning more tours and general destruction.