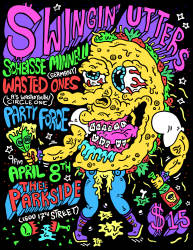 Swingin' Utters, Scheisse Minnelli, The Wasted Ones (LA's Wasted Youth/Circle One), Party Force
Time: 9:00pm Day: Saturday Ages: 21+ Ages Price: $15
This Event Has Ended
Swingin' Utters have been kicking around the San Francisco Bay Area for 25 years now. They've met their wives and their best friends on these streets; they've grown and aged right here in the Bay Area. This has ignited the very essence of what goes into their value system and more importantly their music, because it is a reflection of those experiences. For example, the band took a break to raise their families, right at the height of their popularity! Did it faze them? Not really. Darius became a plumber. Johnny honed his drawing skills and started a screen printing business in his garage. Spike continued singing for all-star cover band Me First and the Gimme Gimmes. No one really knows how Greg spends his time. He is sort of a mystery. That's the thing with these guys. It is family first, with music always germinating within those life choices. During the Utters' semi-hiatus, they all continued playing music in bands like Druglords of the Avenues, the Re-volts and Filthing Thieving Bastards. Their life experiences influence what goes into their records. A case in point is their debut: 1995's The Streets of San Francisco; their first full length and an essential "streetpunk" masterpiece. Fat Mike took notice of their grit and honesty, and signed them to Fat Wreck Chords. From there they put out a ton of great records, including A Juvenile Product of the Working Class, Five Lessons Learned, Brazen Head, Swingin' Utters and Dead Flowers, Bottles, Bluegrass, and Bones. For 10 years the Utters toured relentlessly with the likes of Rancid, NOFX, Dropkick Murphys and everyone in between. Which brings us back to celebrating their 25th anniversary, the band fully recharged with their second album in three years and no signs of slowing down anytime soon.
When the Swingin' Utters finally released Here, Under Protest last April after an 8 year wait, fans were seriously excited and rewarded for their loyalty and patience with another well-crafted punk rock masterpiece. And that was just the start. With a flurry of writing in 2012, the band quickly released a new two song 7" titled The Librarians Are Hiding Something last Fall, with another full length already recorded, now set for release on February 19th, 2013. Now what was particularly cool about this single is that the A-side was a nice precursor to what fans could expect from the upcoming full length in that it welcomed the appearance of new bassist Miles Peck on an Utters record AND marked Jack Dalrymple's debut as a songwriter for the band, as he and vocalist Johnny Bonnel co-wrote Librarians. Said Bonnel, "I'll simply say it is one of the happiest times in my years with Swingin' Utters. Being able to create music with these dudes is pretty exciting and I'm looking forward to writing more!" And so onwards and upwards to the present.

With their latest opus Poorly Formed, Swingin' Utters continue to shatter musical boundaries. Obviously they've got the punk rock end of the spectrum nailed, and have always had a flare for folk and coun¬try as well, but this album sees them hone their indie/post-punk/garage-rock skills. Part of that is due to the emergence of Jack Dalrymple (of One Man Army fame) as a contributing songwriter for the first time since he officially joined the band and started recording with them on their last full-length. Mix that with Johnny and Darius' well established songwriting prowess, and round it out with their collective pop sensibilities, and what you end up with is a truly unforgettable album. Picture some classic Swingin' Utters with a dash of Gang of Four and a pinch of The Strokes, all wrapped up in a bunch of catchy melodies and you'll start to get an idea of what you're in for with Poorly Formed. Darius Koski, singer/guitarist had this to say about the record:

"Our new record was written pretty quickly, more so than anything we've done in the past. One of the reasons, I think, was that Jack had several songs in various stages of completeness, but once he decided to give Johnny the music, and have Johnny write the lyrics and vocal melody to his instrumentation, things started to fly… So there are several of these Johnny/Jack songs on the record (which marks the first songs Jack's written with us). In that way, it was a brand new writing process for us, so it was pretty exciting, and we're really happy with the way all of these songs came out in the end. Mixing with Chris Dugan was an added bonus, and we really hope we can work with him again! We'll be on the west coast in March, as well as a few NoCal record release shows in late February. We're planning on hitting everywhere else in the US (and Canada too!) by the end of the summer. We're going to Australia with Frank Turner and the Dropkick Murphys for a few days in early April (our first time on that continent!), and heading to Europe in July. Hopefully Japan sometime in the fall."
Get ready to redefine just who the Swingin' Utters are, since they're not a band who's ever made the same record twice. And while the tones and arrangements set this record apart from their recent work, there's still plenty of piss 'n' vinegar along with all the other hallmarks of a great Swingin' Utters record: catchy melodies, diverse instrumentation, and intelligent, heartfelt lyrics.
Scheisse Minnelli Scheisse Minnelli is a HC Punk band based in Germany. The band was started in late 2003 by two native Californians and two Germans. The current line up takes it back to that original 50/50 brew with 2 germans, Marlon and Dash,  holding the rhythm tight being joined by California's two most wanted Samuel el Action on vocals and introducing delinquent Mikey P. on guitar.
They have played over 600 gigs, tour hard internationally, have shared the stage with the likes of Poison Idea, Dr. Know, Murder Junkies, Municipal Waste, Seein' Red, DI, Christ on Parade, Antiseen, UK Subs, No Use for A Name, Subhumans, TSOL, NOFX, Jello Biafra, Fang, Pennywise, DRI, Scream, Beowulf and Raw Power. Scheisse Minnelli has toured all over Germany, Belgium, Holland, Denmark,England, Switzerland, Romania, Spain, Austria, Italy, France, Czech Rep, Poland, Hungary, Serbia, Croatia, Slovenia and have toured the United States three times playing over 60 gigs there, as well as an successful tour through Indonesia in 2014.

They have released 4 full length albums on LP and CD along with an assortment of splits, comps and 7 inches. THE FIGHT AGAINST REALITY (2011) has many guest appearances including Kevin Reed & Chris Contos from Attitude Adjustment and original members of R.K.L..
An acoustic mini LP "Leise Minnelli" came out in 2012 which was followed by SORRY STATE OF AFFAIRS released in May 2014. A split LP/45rpm with G.F.P. came out fall 2014. New ideas have been put into action in 2016 resulting in a 7" EP called "A Fifth Of Skatehoven" 4 new tracks, one of them a classical piece converted into a  (punk) "rock" along. 
The Wasted Ones
orginal members of LA's Wasted Youth and Circle One playing Reagan's In and other classic WY songs
facebook.com/pg/wastedyouthreagansin
Party Force
Fight, Fuck, Cry, Tequila! Punk Rock!