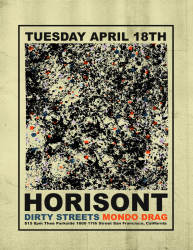 Horisont (Sweden), Dirty Streets, Mondo Drag
Time: 8:00pm Day: Tuesday Ages: 21+ Ages Price: $15
This Event Has Ended
Horisont On the eve of their 10 year anniversary, and after headlining a special show at the Gorg Rockfest, Swedish hardrock band HORISONT are pleased to announce the next chapter within their illustrious career by putting pen to paper and confirming a worldwide deal with Century Media Records. Formed in 2006, HORISONT have spent the last decade establishing themselves within the Scandinavian retro-rock revival scene, along with peers such as Witchcraft, Graveyard etc, thus creating a sound that takes the foundations of the movement while injecting hearty doses of boogie blues, infusing prog complexities and finishing it all off with that good ole NWOBHM swagger! 
After releasing their fourth full length album entitled Odyssey in late 2015, HORISONT completed a 6 week tour across Europe with Kadavar along with their new label mates The Shrine, which helped gain further attention from Century Media, and now before the ink has dried on their brand new deal, HORISONT are bust writing the follow up to Odyssey and plan to enter the studio this summer with the plan to unleash another album guaranteed to get heads banging in 2017!

The band comments: "We are super excited to be signing with the mighty and highly acclaimed Century Media and look very much forward to be working together. Right now we are in the most creative era of this bands existence and this will spill right over into the new album we are currently working on. The first taster off the new stuff will hit the streets by the fall and we're pretty sure it will electrocute your soul. In the meantime – see you on the road!"
Jens Prueter, head of A&R Century Media Europe, comments: "I first saw HORISONT at the Rock Hard Festival in 2013 where they turned the amphitheater into a sea of head banging and beer raising. Seeing them again last year, I was impressed how they took their retro influences and progressed into a league of their own. These guys are as tight as their trousers. Looking forward to join their journey! Thanks to all of the guys and the equally amazing Peter from Crusher Records who discovered them first and is still the captain of the ship!"
Dirty Streets is a young heavy-power trio hailing from Memphis TN, with a great psychedelic, bluesy, folky, soulful, and all rock n'roll sound that reaches back to the 60's and 70's. WHITE HORSE is their brand new album and their follow up to BLADES OF GRASS (Alive). The band has toured with Radio Moscow, and their music has been described as "Vintage. Antique. Classic. And flat-out smoking'" (Winnipeg Sun). The OBELISK calls them "a group with an impeccable instrumental chemistry, immediately familiar hooks brought out through exceptional songwriting."
Mondo Drag 
Under the spiritual guidance of the forefathers of heavy psych, prog, and proto-metal, Mondo Drag has created an amalgamation of sounds the likes of which have not resounded through the atmosphere for decades. The bands unique sound, and rare cohesion probably stem from the fact that core members John Gamino, Nolan Girard, and Jake Sheley actually grew up within a one mile radius from each other, attended the same schools, were a part of the same scene, and have played music with each other for 15 years.

The band's stellar live performances have become a thing of wonder and have seen the band share stages with contemporary artists such as Sleepy Sun, Dead Meadow, Witchcraft, Pentagram, Black Mountain, Wooden Shjips, and High On Fire to name a few.

The release of New Rituals (Alive Records), saw the band touring the US extensively, appearing at many high-profile fests around the country including several official showcases at SXSW (and a dozen more unofficial ones) and headlining slots at both the Chicago Pysch Fest and the Cincy Psych Fest. You can also find them on the Austin Psych Fest 3 DVD (w/ The Black Angels, The Warlocks, Warpaint, et al.).

The band caravanned across the country last year, settling in Oakland, CA. They will be releasing their 2nd LP this year, which features the rhythm section of fast-rising Swedish-American rock band Blues Pills (Nuclear Blast).

Stay tuned…