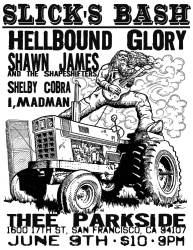 Slick's Bash:
Hellbound Glory, Shawn James & The Shapeshifters, I, Madman, Shelby Cobra & The Mustangs
Bonus Solo Set by Shawn James!
Time: 9:00pm Day: Friday Ages: 21+ Ages Price: $10
This Event Has Ended
Slick's Bash: 
Hellbound Glory
Barreling through the gates of country music, HELLBOUND GLORY, is justifying rightful ownership to the band's declarative namesake. In defining their sound, distilled of equal parts melody and bar-room-thump, this Reno, NV based band is packing the house to a growing legion of fans coast to coast. Front man and songwriter, Leroy Virgil, explains; "We just really dig the challenge of a new audience. We'll walk into a new room full of folks that haven't heard our music, play a 4 or 5 hour night, and drive away with more people that consider themselves fans. I'm not a flashy guy but I like showing off.

facebook.com/pg/hellboundglory
Shawn James & The Shapeshifters are a 4 piece heavy blues rock band from Fayetteville, Arkansas. Their brand of hard hitting electrified dirty delta blues rock combined with Shawn's soulfully roaring vocals make for an intense listening experience whether playing the records or seeing them live.
With their busy tour schedule, you can catch them playing festivals and shows all over the world or hear their music featured on Discovery Channel, NBC, and other media platforms.
They've continuously gained momentum every year since they formed in 2013 and show no signs of slowing down. 
Shelby Cobra & The Mustangs 
facebook.com/ShelbyCobraAndTheMustangs
I, Madman