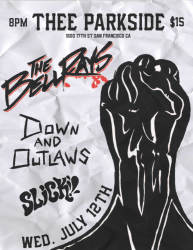 The Bellrays, Down & Outlaws, Slick!
Time: 8:00pm Day: Wednesday Ages: 21+ Ages Price: $15
This Event Has Ended
The BellRays hail from Riverside, California and have been putting on the show of their lives since 1990. Punk, rock and soul have been used to try and categorize what they do but some how isn't enough. Seeing is believing and this is a band to see. You won't forget it! 
Down & Outlaws 
To Down and Outlaws, it's obvious and unavoidable. But apparently an all-for-one philosophy of songwriting and identity is an anomaly in the modern era of music.

Recorded in a marathon one-week session at Studio 606, "Above Snakes" finds San Francisco's Down and Outlaws fine-tuning their place musically and striving to channel the restless, pissed off spirits of rock and roll history.

As Above Snakes -- an old west term meaning "still alive" -- suggests, the band believes in music that's fresh, yet pleasantly unpolished; brash, but wary; accessible, but never cheap.

In "I Don't Care," Peter Danzig proclaims: "I'm a sickness/ I'm a cheat/ I don't care if I feel a thing." And the whole band joins in to scream the title line with an urgency that proves just the opposite.

With appearances at Outsidelands, SXSW, Noise Pop, and Echo Park Rising under their belt, the band's show is the source and primary outlet of that urgency. A friend recently commented, "I've been trying to record your set for months, but you're too fuckin' loud!" This music is based on freedom and escape from everything else that drags you down, if only for 40 minutes.

Slick!