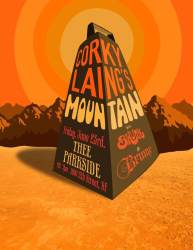 Corky Laing plays MOUNTAIN, Skunk, Brume
Time: 9:00pm Day: Friday Ages: 21+ Ages Price: $20
This Event Has Ended
CORKY LAING plays MOUNTAIN
Hear the immortal MOUNTAIN classics, Mississippi Queen, Nantucket, Sleighride, Never In My Life, Don't Look Around and many others performed live by the band's drummer who co-wrote many of the hits. Corky will also share a few anecdotes from the road. In honor of his long time collaborator, Jack Bruce, the set will also include songs from CREAM and West Bruce and Laing. Corky is joined on stage by Joe Venti (USA) on bass and Chris Shutters (USA)/Phil Baker (UK) on guitar. 
Skunk 
Mix the early eras of Zeppelin, Kiss, Black Sabbath, James Gang, and Grand Funk Railroad. Add a healthy sprinkle of resinous dust from obscure bands like Sir Lord Baltimore, Bang, Cactus, Pentagram, Leaf Hound, and Captain Beyond. Roll mixture in over-sized papers and smoke while cruising on a Friday night in a Camaro...the resulting aroma is SKUNK. 
Brume
In a world where everything travelled at the speed of sludge, Brume were united by a love of the riff in San Francisco at the beginning of 2014. Jamie McCathie (guitar) moved to California, leaving his UK sludge band Gurt in London but knew as soon as he met Susie McMullan (vox/bass) they'd make music. Instantly bonding over bands like Sleep, Windhand and The Melvins the two got to writing. Arising from the fog came Jordan Perkins-Lewis (Drums), who's unique 'Mr Bungle'esque inspiration rounded out the songs, taking each idea and creating something beyond heavy. The trio headed into Sharkbite studios in Oakland (Sleep, High on Fire, Acid King) to create there first record at the end of 2014, combing fuzz soaked stoner metal, haunting ritualistic vocals and crushing slow and low doom.