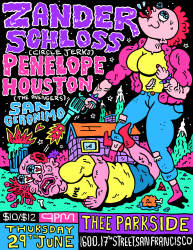 Zander Schloss (Circle Jerks), Penelope Houston (The Avengers), San Geronimo
Time: 9:00pm Day: Thursday Ages: 21+ Ages Price: $10
This Event Has Ended
Zander Schloss is a battle weary musician who has been writing and performing music for over 30 years. He has worked with the Circle Jerks, Weirdos, Sean & Zander, and the legendary Joe Strummer, to name a few. After many years in a collaborative role, he is now presenting his long cultivated solo works to the public. Zander possesses a lyrical baritone that is tempered with a heart on sleeve sincerity and a life rich in experience. Schloss' songs are wistful with just a touch of the sneering punk veteran peeking through. His timeless approach to songcraft showcases his unwavering commitment to music's transcendent power. 
Penelope Houston
The first thing you'll read in any overview of Penelope Houston's career is that she fronted the seminal San Francisco punk band, The Avengers. While her involvement in that band and the power of the music she helped create with them should never be diminished, it seems odd that the two short years she spent in a band while barely out of her teens could overshadow a long, award-winning career as a pioneering singer-songwriter. Any serious examination of her work should not put the emphasis on the fact that she was in the Avengers, but instead on why she was in the Avengers. Her fearlessness made her willing to take the creative plunge into the nascent and exciting world of punk rock in the late 70's without much experience as a writer or performer. The subsequent series of battles, successes and disappointments would provide her with the courage to take risks in everything she's produced since.
In the early 80's while clusters of bands were peddling a tired rehash of the original punk scene, Penelope had already moved on. After spending time abroad in the wake of the Avengers break-up, Penelope returned to San Francisco with the experimental and singular acoustic styles of artists like Tom Waits and the Violent Femmes pulling her further away from the world of punk and electric rock music. She was also able to access the influence of her youthful fascination with great English folk-rock icons such as Pentangle, Fairport Convention, and The Incredible String Band. As exciting as this progression was for Penelope, she was taking an artistic leap at a time when the music underground was still very guarded and conservative. The folk traditionalists weren't accepting of her angsty vision of what folk music could be and the alternative clubs weren't interested in sheltering some quiet folkie with jazz and country flourishes regardless of how much punk attitude Penelope still brought to her music.
Despite the travails, Penelope was at the forefront of an impassioned female singer-songwriter movement as the decade progressed. Starting in the early 1990s and continuing to this day, she would enjoy a large following in Germany and be anointed with (the almost rudely limiting) "Queen of Neo-Folk" tag. Along with the likes of Michelle Shocked and Suzanne Vega, she helped pioneer a sound that would reach its commercial peak with the Lilith Fair set in the late-90s. By that point most of her contemporaries had either flamed out or shifted into creative cruise control, but Penelope refused to choke out her muse.
As she moved her music into the new century, her lyrics remained edgier and more thought provoking than anything in the singer-songwriter realm. She's never been afraid to present her own cynical worldview, yet can offer hope when the world is in its bleakest state or deliver realism when the world has lost its mind. Stylistically, her sound has rarely stayed the same. To appreciate what ten years of an unchained muse sounds like, compare the raw folk-rock of her 1987 debut, Birdboys, with its mandolins and spare percussion, to the offbeat glam-pop and literate balladry of 1999's Tongue. Juxtapose the aggression and earnestness of 1993's The Whole World to the sophistication and insouciant cool of 2004's The Pale Green Girl and admire an artist who's not afraid to gamble on a persona switch or two. She'd also gained fuller command of her voice, turning it into a lascivious, knowing mix of protest singer angst and sex-kitten come-on, which often times was more Julie London than Shawn Colvin. Ultimately, her restlessness serves a purpose. She strives for a pinnacle of songwriting, performance and fidelity that secures her place in the hearts of her fans and music lovers around the world. And she won't pause until that goal is achieved.
Shortly after the release of Pale Green Girl, Houston embarked on a successful tour of the US and Europe with an Avengers 2.0. But in her typical fashion, Penelope could not just stop creating new music. The artist that Ira Robbins proclaimed as "the archetypal indomitable rock'n'roll woman" needed to make some new statements through song.
The past several years have provided tons of vital source material for her art: poisoned marriages, divorce, independence, lawsuits, a return to university, and nine Avengers tours. A new chapter has opened for her and she has continued to sharpen her message in songs that demand declaration.
On a recent summer break, Penelope booked time at the Berkeley's prestigious Fantasy Studios and gathered a team of musical accomplices familiar with her vision. It was there that her latest offering, On Market Street, was born.
Penelope and her co-producer Jeffrey Wood (Luka Bloom, Giant Sand) worked closely with longtime collaborator and guitarist, Pat Johnson, to shape these personal songs into epic musical narratives. With the rock solid foundation of drummer Dawn Richardson (Loud Family, Tracy Chapman) and the gilding Hammond B3 organ of Danny Eisenberg (Tift Merritt, Ryan Adams, Jonathan Richman), they created sweeping backdrops for "If You're Willing," "You Reel Me In," "Missouri Lounge" and Johnson's hymn to forgiveness "Come Back to the Fountain." These tracks make up On Market Street's folk-rock backbone with natural reflections of The Band, Let it Bleed-era Stones, and an Americana edge recalling Lucinda Williams by way of Memphis.
Penelope enlisted the stalwart Steven Strauss to compose Van Dyke Parks-esque string parts to burnish the poignant "Meet Me in France" and "Winter Coats." Confronting Penelope's sometimes-unorthodox musical structures, he adds grace to these dark, poetic and complex heartbreakers. The album also provides some lighter moments with the frisky "Scrap" and "USSA," a humorous wordplay on Cold War era consumerism. Lastly, On Market Street's title track is a moving ballad of social injustice. Bare and haunting with an eerie bed of Mellotron, the song spotlights her voice, now life-honed to an instrument of strength and fragility
Penelope Houston is often thought of as one of the pioneering women of American punk, but delving into the music she's created over the past two decades one wonders why she isn't simply considered to be one of the most pioneering women in music, period. There's never been a better time to catch up with what she's done in the past, but only if you'll always be willing to join her in moving forward.
San Geronimo hails from the rolling hills of west Marin, California. Described by the San Francisco Guardian as "Hard Charging Americana," SAN GERONIMO write powerful, thought provoking songs that intertwine Classic Rock, Country and Psychedelic elements to form a unique brand of what critics are calling California Soul music.