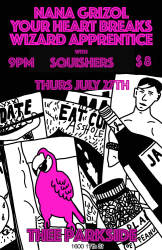 Nana Grizol, Your Heart Breaks, Wizard Apprentice, Squishers
Time: 9:00pm Day: Thursday Ages: 21+ Ages Price: $8
This Event Has Ended
Nana Grizol
Less of a band than an exuberant orbit of bright weird planets circling the joyful kinesis of main-songster Theo Hilton, Nana Grizol's debut album "Love It Love It" sees release on Orange Twin on May 13, 2008. Recorded in their hometown of Athens Georgia directly after a month-long tour of DIY spaces across the States, this record finds the band brimming with energy and rightly well-honed where live performance is concerned; "Love It Love It" sacrifices none of the band's beloved, sweat-stained essence. 
The crew augments Theo's book-open vocals and beautiful fingerpicking with a suitably eclectic array of instrumentation. Laura Carter and Robbie Cucchiaro, both formerly of Athens' legendary and notoriously horn-buoyed Neutral Milk Hotel, head up a brass-and-winds section comprised of Laura's celebratory trumpet, Robbie's Baritone Euphonium, a couple clarinets, harmonica, recorder and whatever else you can pack into a touring-trunk and bring along for a blast. Rhythmic backbone comes courtesy of Southern punkrock siren Madeline Adams' bass, Matte Cathcart's drumming and some right-on Fender Rhodes piano provided by Hot New Mexicans' mainman Patrick Jennings. 
The catchy, heartfelt crunch of the album's opener, "Circles Round The Moon," segues seamlessly into the brassy, beautiful circus-lullaby, "Tambourine-n-Thyme." Things get sad and stripped down with "Tiny Rainbows" -- a gentle plaint nudged toward the light by the brilliant horns. And "Broken Cityscapes" gets positively naked: Theo's adamant vocal sounds above his acoustic guitar and a couple rattles. 
Theo's lyrical voice is ruralist, lovelorn and punkrock in the most primal way: he looks to explicate a world gone way wrong on the most basic, inhumane levels. Experiences gained on the touring road and at his home at the Orange Twin Conservation Community have led him to question the empty life of the modern American, and the disquieting ways the inherent Dystopia have made itself manifest on our own interior landscapes.
Your Heart Breaks (Seattle)
Wizard Apprentice
U.R.L.G.U.R.L. was created by independent singer-songwriter, electronic music producer, and motion graphics artist, Wizard Apprentice. As a highly-sensitive introvert, her multimedia projects are attempts to energetically battle an overwhelming world. Her music is a combination of lyrical precision; intentional, minimalistic composition; and technically-amateurish charm. she creates digitally-based media that takes advantage of accessible, user-friendly technology; allowing her to skip time-consuming learning curves and get straight to focusing on inventing personalized yet highly-relatable language for deeply subtle and internal experiences. She is not a gear-head, rather, a digital folk artist who vividly and simplistically expresses her inner world using resourcefulness and honesty. Her video work incorporates green screen graphics, digital puppetry, and minimalistic compositing to produce imagery that's cerebral, psychedelic, campy, and hypnotic. She combines song and video to create multimedia live performances that explore intimate emotional themes ranging from the challenges/triumphs of being a Black empath to overstimulation in the Internet Age.
Squishers
store.noidearecords.com/collections/new-on-no-idea/products/squishers-too-damn-careless
Facebook Event Page: