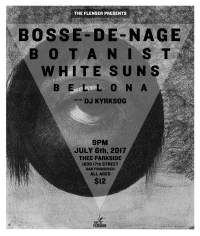 The Flenser Presents:
Bosse-de-Nage, Botanist, White Suns, Bellona
DJ KYRKSOG
Time: 9:00pm Day: Thursday Ages: All Ages / Bar with ID Price: $10
This Event Has Ended
The Flenser Presents:
Bosse-de-Nage
Botanist
The songs of Botanist are told from the perspective of The Botanist, a crazed man of science who lives in self-imposed exile, as far away from Humanity and its crimes against Nature as possible. In his sanctuary of fantasy and wonder, which he calls the Verdant Realm, he surrounds himself with plants and flowers, finding solace in the company of the Natural world, and envisioning the destruction of man. There, seated upon his throne of Veltheimia, The Botanist awaits the time of humanity's self-eradication, which will allow plants to make the Earth green once again.
White Suns
New York City's noise duo White Suns have existed since 2006 and have released three full-length albums – Waking In The Reservoir (UgExplode, 2011), Sinews (Load, 2012) and Totem (The Flenser, 2014) – along with a handful of small-run releases. Their material has received accolades from the New Yorker, SPIN, Pitchfork, and Tiny Mix Tapes among others, and they've extensively toured the U.S. and garnered a reputation as a threatening and intense live act. This summer, White Suns will release their challenging fourth album, Psychic Drift, via label partner The Flenser, and today, they've premiered the album's first single "A Year Without Summer" on TinyMixTapes.
Following the deconstructed rock instrumentation of 2014's Totem, White Suns' Dana Matthiessen and Kevin Barry continue their inexorable plunge into sonic abstraction. Psychic Drift consists of four long-form compositions where synthesizers, field recordings, cut-up samples and lurching rhythms form a tapestry of shifting layers. The focus here is on texture and atmosphere, utilizing repurposed aspects of drone, industrial and harsh noise to create claustrophobic soundscapes that ripple and groan. Look for Psychic Drift to be released June 16th and stay tuned for more songs to premiere soon.
Bellona
Facebook Event Page