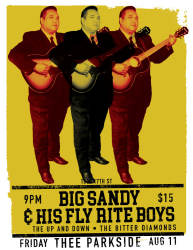 Big Sandy & His Fly-Rite Boys, The Up and Down, The Bitter Diamonds
Time: 9:00pm Day: Friday Ages: 21+ Ages Price: $15
This Event Has Ended
Big Sandy & His Fly-Rite Boys 
Over the last three decades, Big Sandy and his Fly-Rite Boys have kept up a constant cycle of traveling back and forth across the lower 48, then hopping across the pond to Europe and beyond. They bring with them a brand of American music that has earned them an induction into the Rockabilly Hall of Fame, several national television appearances, guest spots on The Grand Ole Opry, and a slew of adoring fans.
"I truly love being out on the road, and I feel blessed to have the opportunity to sing my songs all over the world," said Sandy. "But when I'm away from the U.S. for too long, it's like I need a recharge... like I need a solid dose of everything Americana. Give me a Chuck Berry song while rolling down the interstate, or a truck stop conversation with a waitress who once danced with Lefty Frizzell, and I'm good for another three thousand miles".
The Up and Down 
plays Americana music aggressively. Playing covers and orginal songs of Roughed up Bluegrass, Outlaw Country, Traditional Rock and Roll and Irish Drinking Songs. The band started as rock and roll/punk three peice in 2006. They added banjo in 2008 and started playing a few country songs and got down to two drums with a standing drummer. In 2012 a Mandolin was added, the guitar went from electric to acoustic and Irish Drinking songs were mixed in.
Fiddle came next and the band is now a six pack. The Up and Down seems to end up in Breweries, Bars, and Beer Gardens where quality beer flows and people are looking to have some fun. Don't be fooled when you see the acoustic instruments, this is not a folk band sitting on stools playing slow introspective songs. The Up and Down is a musical good time so don't expect to sit back and quietly listen. Get up, hoot and holler, dance, and sing along. 
The Bitter Diamonds were born when Charles Verlin finished a thermos of day old coffee in the parking lot of the Say When Casino in McDermitt, NV. Having lost the entirety of cash from his wallet, as well as the better part of the change in his ashtray, he pulled his truck onto the blacktop in search of a liquor store that would cash a payroll check.