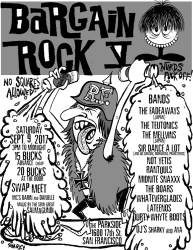 Fabric House Presents:
Bargain Rock at Thee Parkside
Record Swap/Flea Market & Bands, Bands, Bands!
MCs Danielle & Darin, DJs Sharky & Aya
Time: 3:00pm Day: Saturday Ages: 21+ Ages Price: $15
This Event Has Ended
Do you remember the ol' Budget Rock Fest? And you thought the Budget Rock was low budget? Be hold! We have concocted a bargain basement fest just for you bargain rockers!

Fabric House presents…Bargain Rock V! 

There's no hot dog eating contest (no budget) and Big Nate won't be dressed in a hot dog costume (or maybe he will anyway) and no, we ain't got no batter guys making us pancakes. But we got THE SEMI-GREAT SALMAGUNDI doing his magic show. And yes, SIR DANCE A LOT AND HIS DANCING, ROMANCING PRANCETEERS will be making an appearance. And all the familiar faces will be congregating once again at Thee Parkside!

The Fadeaways 
Young garage punk in matching striped shirts from Tokyo, Japan
facebook.com/thefadeawaysjapan

The Teutonics 
Free raffle ticket with admission, great prizes
facebook.com/The-Teutonics-182672117133

The Mellvins
These garage rock ladies from Tokyo will make your knees shake and knock your socks off!
facebook.com/melvinsjapan

Sir Dance A Lot and His Dancing, Romancing Pranceteers 
As Mr. RW once proclaimed, Sir Dance A Lot (AKA Mike Lucas) and his Pranceteers is Neil Hamburger rendered in the form of…DANCE

Not Yetis
A band hailing from somewhere in the Monomino Mountain region of Asia. I think…maybe)

facebook.com/NotYetis

The Rantouls 
You snooze and you miss the Rantouls. Come early before they head home!
chocolatecoveredrecords.com/pages/artist/13/the-rantouls

Midnite Snaxxx 
Showbiz veterans, male members stolen from The Barbary Coasters and The Party Ice Breakers, no chit-chat punk rocking

facebook.com/Midnite-Snaxxx-105627569476640

The Boars 
Come barefoot for the foot stompin' beasts. Not for the faint hearted!
facebook.com/theboarssf

Whateverglades
Oakland estuary pop

facebook.com/thewhateverglades/

LaTeenOs
"No se habla ingles"

facebook.com/groups/123060171088576/

Durty Whyte Boots 
R&B Garage Punk Girl Band from the sunny side of the bay

facebook.com/The-Durty-Whyte-Boots
Magic show by The Semi-Great Salmagundi (and his lovely assistant Jenny)
"The master of forgetting his card tricks is back! See…sort-of grand illusions and witness in drunk awe, magic that would mystify your Aunt Nora in the nursing home!"

MCs Danielle & Darin

DJs Sharky & Aya

Flea Market! We have some great vendors. Come early and shop!
House on the Hill CV – Vintage clothes and more
Vamp – Vintage clothes, knick knacks and records
Golden Rake – they got a fresh haul of "new" record delights! 
And more vendors to come!
Facebook Event Page: 
facebook.com/events/116666812294286