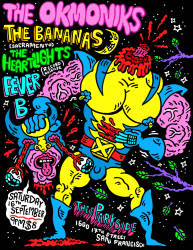 The Okmoniks, The Bananas, The Heartlights, Fever B
Time: 9:00pm Day: Saturday Ages: 21+ Ages Price: $8
This Event Has Ended
The Okmoniks
While still in her teens, Helene 33 was running a drive-in theater and two barbershops in Kalamazoo, Michigan. One night, while listening to a teenage dance combo, she was asked to sit in on organ. Later they invited Sammy to play guitar. Since forming the group they have played at packed dances all across the country. And long after a dance is scheduled to be over, things are still jumping. 

Somewhat paralleling the Beatles' emergence from Liverpool, the Okmoniks are causing a sudden surge of excitement. So, while the Okmoniks were recently headlining various concerts and dances around the country, In-Fi records seized the opportunity to go along and record them. Their first long player on Slovenly presents the highlights of that enormously successful tour.
The Bananas 
Legendary Sacto pop punkers! 
The Heartlights
Oakland locals Maggie, Jason, Nick, and Will have created a fantastic blend of Go-Go's style power-pop and shredding garage rock. Playing heavy-psych garage riffage, with power-pop song structures featuring cute-as-hell, female-belted lyrics that make you miss your adolescence. Blending a vulnerable, intimate song sensibility with loud aggravated guitars seems like a tricky area to navigate, but The Heartlights nail it. Creating something new and inspiring for just about anybody that loves rock n' roll, The Heartlights make you want to rage at a house party, while simultaneously falling in love with the girl next door. (-Corey Fedor)
Fever B