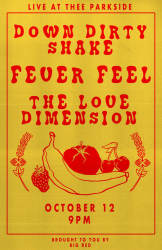 Down Dirty Shake, Fever Feel (Victoria, BC), The Love Dimension
Time: 9:00pm Day: Thursday Ages: 21+ Ages Price: $10
This Event Has Ended
Down Dirty Shake is a rock n roll band based out of San Francisco. The group is deeply influenced by the 60's/70's. Touching on latin, psych, soul, pop and garage rock. The live shows are guaranteed to be an experience; always full of energy and raw emotion. DDS is most well known for there annual milk bar residency and throwing DIY music festivals
Fever Feel is an original rock and roll band of 2017, founded by primary songwriters Landon Franklin and Logan Gabert. However, they are much more than just a group of musicians. Fever Feel is a culture, a movement, and part of a new age for rock and roll music.
"There are some rare acts who craft their art from a place of deep introspection that the listener is able to feel in their core. Fever Feel is one of these bands." – Beatroute Magazine

Causing listeners to dance and sing, then lose all control with their captivating visions of a simpler time, Fever Feel's sound is comprised of emotionally dynamic, groove-filled compositions that lay the foundation for Franklin's thought provoking poetry. Gabert's guitar leads, abounding in both power and delicacy, soar with an enigmatic finesse. These make way for Platt's equally compelling organ tones, which are shrouded in subtlety, yet executed violently. Together they shine like a moonlit night, contrasting the bands tight rhythm section led by Franklin and his melodic bass playing.

"The easy listening flow of Fever Feel is orchestrated with the ability to pull anyone to the deepest depths of any ocean and without a second thought shoot them off spiralling into the outermost reaches of the known universe." – So Taste Music Review
The Love Dimension 
San Francisco musical collective The Love Dimension steeped itself in the music of the psychedelic era of the '60s then infused it with the sound of '90s grunge and other more contemporary influences to create "mind-expanding music" for the 21st century. Resonating with the consciousness expanding goals of the '60s psychedelic movement, The Love Dimension "creates sonic architecture for the benefit of all sentient beings across the multi-verse." A musical vision that reflects the personal journey of band founder Jimmy L. Dias who was on the path to becoming a shamanic healer when his own experiences of healing called him back to music. In 2008, while continuing his training as a healer, Jimmy set out to find the right players for The Love Dimension.