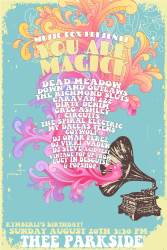 Music Box Presents: You Are Magick
Dead Meadow, Down and Outlaws, Richmond Sluts, Caravan 222, Dirty Denim, Greg Ashley, Circuits, The Spiral Electric, My Dallas Teens, Coywolf
DJs, Vintage Pop Up
Kymberli's Bday Party
Time: 4:00pm Day: Sunday Ages: 21+ Ages Price: $20 - $30
This Event Has Ended
Music Box Presents: 
You are Magick
Featuring...
Dead Meadow 
formed in 1998 with Jason Simon on vocals and guitar, Steve Kille on bass, and Mark Laughlin on drums. They began to combine 70s hard rock and 60s psychedelic rock with far out and sometimes mystically minded lyrical themes occasionally even hinting at the obscure genius H. P. Lovecraft and other far out writers of the bizarre and weird.[1] The first album, Dead Meadow, was released in 2000 on Tolotta Records, a label run by Fugazi bassist Joe Lally. The LP version was released by Planaria Records. This was quickly followed by 2001's Howls from the Hills, also released on Tolotta Records. At the completion of "Howls from the Hills" John Peel asked Dead Meadow to record a Peel Session which was recorded in Fugazi's home studio, the first time a Peel Session was recorded outside the BBC studios.
In Spring 2002, Laughlin parted ways with the band in order to pursue a career as a lawyer. He was replaced by long-time friend Stephen McCarty. A live album, Got Live If You Want It, was released in mid-2002, which documented one of the last shows with drummer Mark and was produced by Anton Newcombe of Brian Jonestown Massacre. In early 2003 the band signed with Matador Records and released Shivering King and Others. Along with the heavy song and blues-influenced songs as on the previous two records, the band continued in their psychedelic style, with acoustic elements and ballads. With the addition of second guitarist Cory Shane, Feathers was released in 2005. Simon's guitar virtuosity is influenced by the droning modal character of Eastern music as by classic rock riffs.

Jason Simon is the nephew of The Wire creator David Simon. Dead Meadow's music was used briefly in the episode React Quotes in season five of The Wire.

In 2007 the band has reverted back to a three piece, made an appearance at the 5th annual Green Man Festival in Crickhowell, Wales and relocated from Washington, D.C. to Los Angeles, California.

In the beginning of 2008, Dead Meadow released Old Growth on Matador Records. A collection of songs that brought the band back initially to the same farm that their second release Howls from the Hills was created and eventually finished up at the legendary Sunset Sound studio in Los Angeles. As with the last three albums Old Growth was produced by bassist Steve Kille.

Later in that same year a brief session with Andrew Stockdale of Wolfmother led to the reinterpretation of the Dead Meadow song "Everything's Goin' On" as a new song "Pilgrim" landing on the second release for Wolfmother, "Cosmic Egg".

In March 2010 the band released a feature length live film and soundtrack, "Three Kings", that spotlights their stage show along with psychedelic dream scenarios. The live footage and audio was captured at the bombastic final show of the five month "Old Growth" tour. The film premiered at the Hollywood Forever Cemetery in Los Angeles, California[2] and was released on the NYC label Xemu Records, co-run by Kille.

Jason Simon also announced his September release of his first solo "self-titled" acoustic album on TeePee Records.

The song "Sleepy Silver Door" and "Greensky Greenlake" were featured in the skate video "Emerica, Stay Gold."

As of October 2010, Mark Laughlin rejoined the Dead Meadow lineup. A new studio album is in the works.
To Down and Outlaws, it's obvious and unavoidable. But apparently an all-for-one philosophy of songwriting and identity is an anomaly in the modern era of music.
Recorded in a marathon one-week session at Studio 606, "Above Snakes" finds San Francisco's Down and Outlaws fine-tuning their place musically and striving to channel the restless, pissed off spirits of rock and roll history.

As Above Snakes -- an old west term meaning "still alive" -- suggests, the band believes in music that's fresh, yet pleasantly unpolished; brash, but wary; accessible, but never cheap.

In "I Don't Care," Peter Danzig proclaims: "I'm a sickness/ I'm a cheat/ I don't care if I feel a thing." And the whole band joins in to scream the title line with an urgency that proves just the opposite.

With appearances at Outsidelands, SXSW, Noise Pop, and Echo Park Rising under their belt, the band's show is the source and primary outlet of that urgency. A friend recently commented, "I've been trying to record your set for months, but you're too fuckin' loud!" This music is based on freedom and escape from everything else that drags you down, if only for 40 minutes.
Hailing from the Richmond District of San Francisco, The Richmond Sluts are a revved up rock n roll band that is timeless. With influences from garage, psych, blues and rock n roll The Richmond Sluts are guaranteed to make you move, sweat, dance, and shake
The Richmond Sluts story began in 1997 by founding members Chris Beltran (bass) and Shea Roberts (guitar/ vocals) who met and shared similar tastes in music (garage rock, rock n roll, blues, psychedelic, power pop) among other things, they quickly became friends. After completing the line up with the addition of Justin Lynn (keyboards), they developed a sound that was particularly their own. Upon putting out a self-titled Full Length on Disaster Records in 2001 and touring the US, The Richmond Sluts began to draw attention in the underground garage and rock scene, playing with bands such as The Brian Jones Town Massacre and Sky Saxon and the Seeds.

After touring Europe in 2014 the band went back into the studio to get to work on a new record. The new record titled (60 Cycles Of Love) was released in November of 2016. It is an eclectic mix of garage rock, blues and psychedelic jams! If you like rock n roll this long awaited album will not disappoint !!

The current line up consists of Chris B, Shea Roberts, Justin Lynn, Jesse Nichols & John Tyree, they're sure to grab your soul and make your body shake!!
Caravan 222 is cosmic Californian music, a San Franciscan super troupe, and musical collaboration formed by adjoining members of some of the bay area's top bands. The group consists of Jacob Landry (Lee Gallagher and the Hallelujah), Kyle Demartini (Down Dirty Shake), Nate Porter (New Sun Company), Dashiel McClary (Big River Ever After), and their Chilean counterpart, Simon Todorovic (A Full Cosmic Sound). With all the members being individual writers, the band invokes a range of emotions, from bittersweet ballads and cruising poem songs to dirty rock and roll anthems. Their musical presence is reminiscent of 70's Dylan, Young, CCR, The Dead, Cohen, Donovan and more. Upon seeing these players live one can't help but to feel they must be witnessing something special and rare to this day and age. May the 'caravan' rock as it rolls down the good times highway to a rumbling stop at a cosmic spot near you!
Dirty Denim
Combining obscure sixties garage with 50's/60's girl rock and garage punk, all girl trio Dirty Denim bring a refreshing bit of fan fetishism to the impetus of sleazy rock 'n roll. After guitarist and lead singer Katie Rose (BOMP! Records baby of les Hell on Heels) migrated down to San Francisco from Portland, Oregon with bassist Laura Svec, they eventually joined with drummer Raquel Reyes (The Peppermints) to form Dirty Denim. They swiftly made their mark in the North Bay area gigging with local and touring bands at S.F. venues such as; Great American Music Hall, Rickshaw Stop and Bottom of the Hill. 
This year (2016) they added a fourth badass, Niki Kangas, who juggles keyboard, guitar and tambourine. Dirty Denim doubled down with explosive keys, catchy riffs and backup gang vocals that are impossible not to sing. 
Watching them go from 3 shy girls nervously giggling into microphones... to an all out WILDFIRE on stage has captivated me. Always obsessed to see what they'll do next and literally twitching to hear their FIRST FULL LENGTH RECORD (set to release this year)... I wait impatiently. 
Dirty Denim is now headlining local shows and supporting great bands like, The Coathangers, The Birth Defects, Shannon & the Clams and many others. These are four of the hardest working women in the industry, so catch these busy bees any time you can! They're impossible to tie down!! (well...figuratively) 
-Bob Cantu
Greg Ashley has been a fixture on the underground music scene since the late Nineties while strafing eardrums as a teenager in Houston in garage-punk band The Strate-Coats. Since then he's proven himself not only as a songwriter, singer and guitar player in bands like The Mirrors & The Gris-Gris, but also as a producer/sound engineer via his Oakland-based Creamery Studio.
His career as a solo artist is vast & varied, spanning the gamut between fried & beautiful psychedelia, gorgeous & cathartic symphonic suites & gentle, damaged folk music, beginning with 2003's "Medicine Fuck Dream" & last leaving us with 2014's "Another Generation of Slaves". His latest, "Pictures of Saint Paul Street" carries forward that album's musical palette (a rootsy amalgam of tortured, Cohen-esque folk tinged with the beer soaked recklessness of a West Texas honky-tonk).
The songs on "Pictures of Saint Paul Street" are lush & beautiful autopsies of society's underbelly, with stark and brutally honest ruminations on humanity. Songs like "A Sea of Suckers" & "Pursue The Nightlife" pull no punches, while "Jailbirds & Vagabonds" and "Blues For A Pecan Tree" carouse on a more abstract, human (almost romantic) level. By the time you've hit the album's centerpiece; "Bullshit Society", Ashley's songs move from ballads of hopeless misery to rallying anthems for the dispossessed. The people & artists who move further to the fringe as power and greed overtake our planet, a situation all too familiar to Ashley as he was forced to relocate his long-running Creamery Studio from it's long time home due to the rampant gentrification of the Bay Area (the former studio building now houses luxury lofts). "Pictures of Saint Paul Street" isn't always an easy listen, but that's the point; the journey to salvation isn't easy or pretty. The protagonist in many of Ashley's songs may be Ashley himself - a true artist willing to admit he's nowhere near perfect, and honest enough to document his sunrises & sunsets no matter if they occur in his own backyard, or on a barroom floor.
Circuits 
Like a new wave Eddie Haskell fronting a Hanna-Barbera punk band.
The Spiral Electric
Interstellar intercourse. Taking drugs to make music to take drugs to. Keeping music evil. Following our own instincts. Swimming against the stream. Kicking over velvet ropes and leading the bum-rush.
My Dallas Teens
From the beautiful mountains to the vast deserts, holding fondly to a musical structure of times past and harmonies of the future.
Coywolf
Hailing from Oakland, Coywolf is a combination of players from different musical backgrounds that culminate into a sound that meets it's namesake. From from the sneaking quiet to the snarling loud. Coywolf is invading your cities.
Tix price will b 20 adv / 25 door / 30 w poster