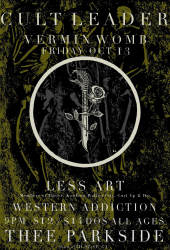 Cult Leader, Vermin Womb, Less Art, Western Addiction
Time: 9:00pm Day: Friday Ages: All Ages / Bar with ID Price: $12
This Event Has Ended
Cult Leader are a chaotically aggressive band from Salt Lake City, Utah.  "Lightless Walk" was recorded and engineered by Kurt Ballou at God City Studios (Converge, High On Fire). From the first menacing thumps of "Great I Am", Cult Leader unleash grinding musical fury. "The Sorrower" gallops before crashing into a wall of heaviness as they vocally declare "...nothing will get better".
The pessimistic spiral continues in "Sympathetic" and "Suffer Louder", two tangles of cacophony that give birth to crushers of ending riffs. "Broken Blades" then emerges as a near constant barrage, showcasing the technical prowess thriving underneath Cult Leader's layers of grime. While "A Good Life" ushers in new dynamics, clawing through melodious dirt before taking flight again. "Walking Wastelands", "Gutter Gods", and "Hate Offering" are all metallic monsters in their own right, lurching towards the epically haunting pairing of "How Deep It Runs" and "Lightless Walk". Two songs that show Cult Leader at their most depressive and powerful as they recede into introspective darkness. 
Vermin Womb 
"Formed from the ashes of Clinging To The Trees Of A Forest Fire by vocalist/guitarist Ethan McCarthy (also of Primitive Man and Withered) and bassist Zach Harlan, Denver, Colorado's VERMIN WOMB appeared on many a radar with their 2014 EP "Permanence". While the band's debut album "Decline" marks the arrival of ex-CTTTOAFF JP Damron on drumming duties, these ten tracks sound nothing like a return to form, as the band managed to be faster, uglier and heavier than ever.
VERMIN WOMB's brand of ultra brutality gives no quarter, enhancing their no-bullshit grinding death metal with dissonant death/black murkiness, war metal savagery and sludgy breakdowns. With McCarthys's trademark subterranean barks, raw-sounding blast beats and imperial riffs bolstered by Dave Otero's thick production, Decline is one of these short albums designed for maximum impact. If you ever wondered how extreme metal would sound like once purged of any unnecessary artifices, here's your answer."
Less Art
Post-hardcore for and by post-youths. Featuring members of Thrice, Kowloon Walled City, and Curl Up And Die.
Western Addiction 
While the San Francisco band's sophomore effort comes nearly 12 years after theirdebut, don't think they have grown out of hardcore. Tremulous rips its way through 11 explosive tracks, delivering a consistent sound strongly rooted in the past that is plenty aggressive and surprisingly melodic. It sounds like the same band that made Cognicide, just older, wiser—but still pissed off.