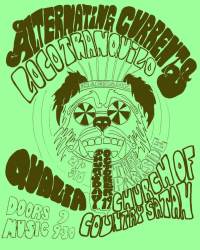 Alternating Currents, Loco Tranquilo, Qualia, The Church of Country Satan
Time: 9:00pm Day: Thursday Ages: 21+ Ages Price: $10
This Event Has Ended
Alternating Currents are based in Oakland California. A band of marbled influences striding out of Traditions into a sound drenched in Psych-Rock, Soul and Despair.
Loco Tranquilo 
Fusing hypnotic and colorful melodies with funky grooves and jazzy, primordial rhythms Loco Tranquilo's distinctive style of music is made to create unity through universal feelings.
Qualia 
What I can only describe as culty- psych - gospel. Instances of raw beauty in harmony and jazz arrangements condense into sheer  Zeuhl (see Magma).
The Church of Country Satan