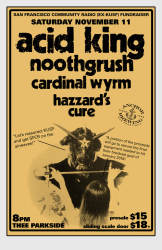 Acid King, Noothgrush, Cardinal Wyrm, Hazzard's Cure
San Francisco Community Radio (ex-KUSF) Fundraiser
KUSF DJs Carolyn, The Creep
Time: 8:00pm Day: Saturday Ages: 21+ Ages Price: $15 - $25
This Event Has Ended
San Francisco Community Radio (ex-KUSF) Fundraiser
KUSF has been in exile for the past few years but is re-emerging as San Francisco Community Radio! They are set to hit the airwaves in early 2018 but need to raise some more cash to purchase the rest of the equipment. Come out to a stellar lineup and help get SFCR on the airwaves! For more details on SFCR check out their site: SFCommunityRadio.org

Live Music By:
Acid King 
Once upon a time, ACID KING's creator, songwriter, guitarist and singer Lori S. hung out with her friends at Busse Woods, a forest preserve outside Chicago where teenagers up to no good hung out with their trunks open, cranking tunes and selling drugs. After the cops caught on this era ended.
Several years and several bands later, some friends recommended a book that would ultimately kindle pounding, wicked riffraffdom . It was called Say You Love Satan - a bizarre, tongue-in-cheek account of a Mansonesque stoner dude named Ricky Kasso who, well.... dropped acid and did fucked-up stuff. He looked pretty fucked-up, too. But anyway... Lori finished the book in half-an-hour and Acid King was born. The name came way before the group came together.

1993 was the year of reckoning. The decision was made to base the still embryonic AK in San Francisco. Bassist Peter Lucas stepped up to the plate first. He read SYLS (a pre-req for joining), had a good laugh, and he and Lori hit it off straightaway. But they needed a drummer to make things official. Obviously. Joey Osbourne read the book and came on board several months later. Suddenly, Acid King was an entity. For real. Alright!

For as loud as their riffs and roars are, Acid King's legacy is as unassuming as it is enduring, casting a quiet shadow over the underground for over two decades. Bathed in distortion and baptized in a plume of smoke, the Bay Area trio—Lori S. [vocals, guitars], Joey Osborne [drums], and Mark Lamb [bass]—re-emerged with their first offering in a decade, Middle of Nowhere Center of Everywhere. Receiving widespread critical acclaim, tastemakers such as Noisey, Blabbermouth, Invisible Oranges, Ultimate Guitar, and New Noise lauded the album. They embarked on tours of the States and Australia, appearing on festivals including Psycho Las Vegas, Erosion Fest, Desert Generator, and more as well as sharing the stage with everyone from Sleep and Down to Blue Öyster Cult, Red Fang, and YOB. The record extended a celebrated discography that encompasses three EPs and three full-lengths, namely Zoroaster [1995], Busse Woods [1999], and Acid King III [2005], carving out a foundation back in 1993. It's no surprise strains of their style infect modern luminaries such as The Sword and Kylesa, and they've earned a place in tomes like The Encyclopedia of Heavy Metal and the A to Z of Doom, Gothic & Stoner Metal.
Forever etched in the Acid King Necronomicon, Joey and Mark announced they would each begin their own respective new chapters in late 2016. "When we started this band, it was always just about playing music that we love," exclaims Lori. "Joey and Mark reached a point where they wanted to focus on other aspects of their lives. I wish them the best. It was simply the start of another era."

As the proverbial train kept rolling, Lori invited an old friend to join her on the road for a string of shows in 2017. Black Cobra's Rafa Martinez entered the fold again after assuming bass duties once in 2007. Meanwhile, she tapped the talents of drummer and avowed Acid King fan Bil Bowman of Hornss behind the kit. The new year sees the group primed for Upstream Festival with Dinosaur Jr. and more followed by Maryland Death Fest, Modified Ghost Festival, and Electric Funeral Festival. "The new lineup sounds killer in practice," she goes on. "We're ready to continue Acid King's story on the road."

As she aims to commence writing in 2017, the future remains bright for the frontwoman. In the end, Lori keeps forging ahead as Acid King's spirit rages on louder than ever before. "Even though we're doing the same thing we were at the beginning, I feel like it keeps getting better," she leaves off. "It's exciting to see the impact it has on fans. A lot of people will write me and say they had a shitty day, put on our music, and it took them to another place. Many songs are written while I'm riding my motorcycle. I want to transfer that feeling. It's cool to see the reaction."
Noothgrush
In the summer of 1994, drummer Chiyo Nukaga, bassist and vocalist Gary Niederhoff, and former Asbestosdeath guitarist Tom Choi decided to start a band that played slow, heavy, riff-based music. To ensure a severe low-end attack, they brought in second bassist Luis Davila, who also provided electronics on the only demo recorded by this lineup. After a few shows, Tom and Luis both left to pursue other projects, and Russ Kent was brought in to fulfill guitar duties.

This core three piece thrived throughout the '90s, joined for a few months by Exhumed guitarist Matt Harvey, who performed with them at Slapaham's Fiesta Grande #4 in early 1996, and by Al Ruel for a few months in 1997. The band released their debut 7" on Slapaham and churned out dozens of songs for various compilations and split releases with bands like Corrupted, Gasp, Agents Of Satan, Deadbodieseverywhere, Black Army Jacket, Wellington, and Carol Ann. They also recorded a full length LP which would not be released for nearly 14 years.

The decade ended with a two month tour of the U.S. and Canada, and as a new millennium dawned, creativity was waning and it appeared that local interest in the band was as well. The band decided to call it quits in April of 2001.

A decade later, the looming vinyl releases of archival live material on Southern Lord, their first demo on Fuck Yoga, and their long dormant Erode The Person LP on Parasitic led the band to reunite for performances at Southern Lord's Power Of The Riff Festivals in San Francisco and Seattle in August of 2011. After these shows, it was clear that Gary's voice was no longer able to meet the demand of the band's music, and in January of 2012 former Dystopia and Asunder vocalist Dino Sommese took over on vocals. 
In the past few years, Noothgrush has toured Europe and Japan, played at Roadburn, Maryland Deathfest, Heavy Days in Doomtown, Deadfest, 305 Fest, Power of the Riff Fest, Rrroooaaarrr Fest, and headlined numerous shows from New York to San Francisco. The revived four piece line up recorded new material at Earhammer studios in Oakland for a split LP with Japan's Coffins on Southern Lord, and an EP on Fuck Yoga. The band is currently working on a new full length to be released in 2015. Their trip to Desertfest in London in April will be their debut performance in the UK.

Cardinal Wyrm
"Cardinal Wyrm represents yet another troupe in the seemingly immortal supply of Bay Area metal bands fresh on the scene and grappling for listeners' ears. And just like so many of their regional peers and predecessors, this trio fully embraces the notion of minimizing strict genre tags in an effort to paint a broader array of moods within their comprehensive panorama."
- Last Rites Metal Reviews
Hazzard's Cure
San  Francisco, California, based Hazzard's Cure is a four piece  heavy metal band. Not so easily lumped into a sub genre, one thing that seems agreeable to all is that their sound is distinctively "Bay Area," drawing more inspiration from their contemporary colleagues than the masters of the past, shooting off at odd angles from the generic sludge, doom and black metal sounds that are clogging the web waves these days. 

Clint (drums), Chris (guitar) and Leo (guitar) began developing new material for their post Orb Of Confusion project in late Spring of 2009, eventually recruiting Shane (Walken) on bass. They played their first show (as Waylin Jenocide) on August 7 of that year. They  played their first show as Hazzard's Cure on February 7th, 2010, and released a three song demo just in time for their first tour, to the Pacific Northwest in April 2010. 

Hazzard's Cure's first, self titled, full length album was released in October 2011 on Lummox Records, to critical acclaim, some even going so far as to say it was "An absolutely phenomenal debut work from a band who know their stuff" (Death Metal Baboon) and "…one of the best albums of the year." (Hellcrust). With massive production by Greg Wilkinson at Earhammer Studios, and iconic and grotesque artwork by Lukas Krieg, the album became an underground favorite in the Bay Area and beyond. 

To support the album, the band toured up and down the West Coast extensively, and played seemingly every metal venue in the Bay Area that would have them, opening for a diverse array of touring acts from around the country and world. 

A New three song EP entitled "The Ugly" was released on CD and cassette in late 2014; the 12" vinyl followed shortly behind in early 2015. "The Ugly" represented an intensification of their previous sound, and featured guest vocals from Laurie-Sue Shanaman (of the late, great Ludicra) on the final track, furthering the band's commitment to perpetuate the recent history of the Bay Area metal sound. 

Since their inception, Hazzard's Cure has undertaken seven West Coast tours, and played 129 shows with such bands as Eyehategod, Graves At Sea, Unasane, Mutilation Rites, Saviours, and Bell Witch, among others. A split seven inch single with Walken was released in September 2016. More touring (of course) and the release of a second full length album "Smoke Iron Plunder," are planned for late 2016. 
KUSF DJs: Carolyn & The Creep