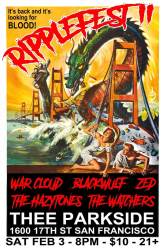 Ripple Records Rager!
Blackwulf, War Cloud, ZED, The Hazytones, The Watchers
DJ Rob Metal
Time: 8:00pm Day: Saturday Ages: 21+ Ages Price: $10
This Event Has Ended
Ripple Records Rager!! w/ live music by:
War Cloud is a young band but far from wide-eyed innocents. Their musical history drenched in molten riffs across the timeline of heavy metal, the name alone originates from a Wicked Lady song of the same title. With roots encompassing Tony's tenure in San Francisco's heavy thrash tinged Hell Fire, Kai's melding of hard rock rhythm and old-school groove on bass, and Joaquin pounding his drums as if possessed by the ghost of John Bonham himself. War Cloud has created a new flavor of heavy rock music for those enjoying past meals served up by the likes of Pentagram, UFO, Deep Purple, and Black Sabbath. 
Blackwulf
Made up of vocalist Alex Cunningham, guitarist Pete Holmes, drummer Dave Pankenier and bassist Scott Peterson – prowl the musical feeding grounds of stoner rock, doom-cloaked soundscapes and vintage heavy metal. Dark sonic forests that provide coverage for their unholy mix of parapsychological anger and aggression and bluesy, headbanging riffs.
With a resume that includes member stints with bands like San Francisco's Acid King, The Nads, Tucson's Naked Prey and Mountain Pig Blackwülf is already a seasoned predator. Formed in 2012, it wasn't until January of last year that the band unleashed their debut album Mind Traveller on Wicker Man Recordings, pressed on clear red vinyl and featuring jacket illustrations from acclaimed San Franciscan artist Alan Forbes (Queens Of The Stone Age, The Misfits). The record, much like Blackwülf themselves was unabashed in its typical, "What you see is what you get" aesthetic. Heavy stoner riffs melded to sincere, pure rock indulgence that has since paved the way for the self-released 7" split single 'Acid Reign' with Portland's Black Snake last September. Yet another dose of melody and raw power, offering a nod to the golden old schools of heavy 70s and 80s pre-thrash metal.
ZED
The Valley of the Riff is well inhabited and plentiful in its offerings and the beauty of its vast sprawl is that there is room for many. Making their presence well-known with heavy footprints and sonically indelible marks are San Jose-based Earth shakers ZED. A sound based on core principles of the blues, heaviness, groove, and feel this San Francisco Bay Area quartet is the genuine article, Ladies & Gentlemen. The sound is as organic as it is raw.
No bell bottoms, wizard sleeves, or hip huggers for this crew. It's a barrage of head-bobbing, air-guitaring, hip-shaking, blues-driven rock as delivered by the bastards of rock & roll. With equal appeal to the fuzz-box mercenaries, stoner-rockers safety meeting in a '74 Chevy van, and horns-thrusting metalheads pressed against the stage, this band refuses to conform or brandish a manufactured label.
Showing the maturity and confidence to explore the full gamut of their influences and what inspires them internally, ZED is set to offer their third full-length album "Trouble In Eden" with an August 26th release date on Ripple Music. "Trouble In Eden" is a literal collection of blood, sweat, and tears crafted together with raw, personal, relative lyrical content. Tales touching on religious-fueled tragedy, societal reflection, struggles with mental anguish, loss, and perseverance, this album is one for all to relate to. Drop the needle, push play, crank the knob, push the volume high and prepare to be intoxicated by the potion ZED is offering. – Dylan Dominguez-Waltz
The Hazytones is a stoner rock group founded in 2015 in Montreal. The trio stuns the audience with his stage presence and intensity. Riff after riff, the group is known for his fat sound and heavy destructive saturation
The Watchers
Bay Area heavy rockers The Watchers have signed to Ripple Music for the Oct. 21 release of their Sabbath Highway debut EP. Today the band premieres a new video for the track, well, "Today," that serves notice of the ass-kicking ethic to come on this release and hopefully going forward as well. Founded by members of SpiralArms and Orchid, they're a four-piece who wear their love of fuzz on their sleeve à la Valley of the Sun if "Today" is anything to go by, and the hook they proffer in the track is made all the more classic-feeling by the Evel Knievel footage they've chosen to accompany it. If you feel like maybe you can get down, that would be advisable.
Sabbath Highway — presumably named for the stretch of road upon which The Watchers are burning asphalt in their four-seater riff-fueled fuzzcycle — is the absolute first release from the band, which is comprised of vocalist Tim Narducci and bassist Cornbread (both formerly of SpiralArms), guitarist Jeremy Epp and drummer Carter Kennedy (Orchid). No surprise that seasoned players would have an idea of what they want to do with their sound, but as they demonstrate with "Today," their love of heavy rock spans about four decades' worth of influence, from then to now, and they're looking to make their mark as a unit starting with these five tracks.