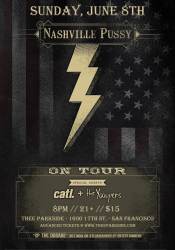 Nashville Pussy, catl, The Yawpers
Time: 8:00pm Day: Sunday Ages: 21+ Ages Price: $15
This Event Has Ended
Nashville Pussy

 - True rock n' roll doesn't require definition. It's self-explanatory based on a gut feeling and the unconditional devotion to the musical genre. Nashville Pussy have celebrated their brand of genuine rock n' roll for more than a decade, in classic style at times, surprising at others, but always earthy, raw and unadulterated. Band mastermind Blaine Cartwright (vocals, guitar), his wife Ruyter Suys (guitar), Karen Cuda (bass) and Jeremy Thompson (drums) poured their heart and soul into the latest rock release, entitled From Hell To Texas, which saw the band hone their most impressive recording to date alongside the non stop touring, from Australia, Brazil, Canada, Europe, Japan, and almost a year straight with the Reverend Horton Heat, "We allowed ourselves this time to give the songs the chance to turn out as perfect as possible," Cartwright explains. "We kept playing the new tracks at our rehearsal room until they really clicked. I feel they're heavier and grittier than previous releases. The whole creative process took three long years, but the result has been worth the trouble." Their songs are mostly about fun and good times, but occasionally – as in the case of 'Late Great USA' – they also stick the finger into an open wound. "Although Blaine's comical and satirical themes mostly prevail on From Hell To Texas, there are two or three numbers which deal with more serious subjects. 'Late Great USA' is a political song, we simply had to vent our anger at certain grievances in this country."
catl - After a winter-long hiatus, the rockin' rhythm 'n' blues group known as catl. are re-emerging with a newly configured line-up. Real-life couple Jamie Fleming (catl) and Sarah Kirkpatrick have decided to continue their musical journey as a duo with Kirkpatrick playing drums. The result is a sexy, raw, primordial rock and roll experience. All stripped down but just as energetic and fun. You can expect exciting re-workings of your favourite catl. songs as well as some brand new jams. The duo has spent the winter writing a new record that they intend to record in the fall of 2013.
The Yawpers

- A stripped down, brazen rock and roll band from Colorado, accompanied by overdriven acoustic guitars and a trap kit. Inspired by Whitman's promise to "sound my barbaric yawp over the roofs of the world," the Yawpers have created a sound that is equal parts frenetic, earnest, and menacing, all while bringing together disparate pieces of the American musical lexicon. Though less than three years old, the Yawpers have played over 350 shows on both coasts, and everywhere in between, and have shared the stage with: the Reverend Horton Heat the Heartless Bastards, the Black Angels, Cracker, the Nadas, the Supersuckers, the Delta Spirit, Reverend Peyton's Big Damn Band, the Stone Foxes, Joe Buck and many others. Following the release of an EP in 2011, their critcally well received LP, "Capon Crusade", released in late 2012, debuted at #1 on the Colorado Music Charts, and is now in its second printing.