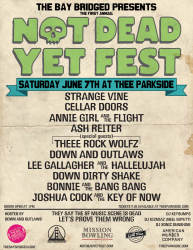 The Bay Bridged Presents:
Not Dead Yet Fest
Time: 1:00pm Day: Saturday Ages: 21+ Ages Price: $10
This Event Has Ended
Not Dead Yet Fest is a reminder - no, a battle cry - of how much great music is alive and well in San Francisco. NDYF exists to promote and bring together the ever-growing music community in our city by the bay. We're emerging artists and veteran performers, and we're still here making noise and doing what we love. To those who wonder if the SF music scene is dead, we say to you: Not on your life. Join us, and see for yourself at the inaugural Not Dead Yet Fest on Saturday, June 7 at Thee Parkside.

Presented by The Bay Bridged...

Strange Vine's earthy, energetic music is a fusion of blues, psychedelic, and traditional American rock. It's a sound born of California's Sierra Nevada Mountains, from two men who were raised there.  In just a few year's time, Strange Vine has already shared the stage with acts like Cage The Elephant, Band Of Skulls, The Growlers, Lord Huron, B.B. King, Robin Trower, Kurt Vile, White Denim, Pokey LaFarge, and JEFF The Brotherhood.
Annie Girl and The Flight - Annie Girl was born and raised in Denver, Colorado. When she was 17, she left home for the streets of San Francisco. Less than two years later she was in the legendary Hyde Street Studio, making her first record with a band whose resumés include Nina Natasia, Victoria Williams and Jolie Holland. Her self-titled record, "Annie Girl and the Flight," released in February 2013, was named MOJO magazine's album of the month.
Ash Reiter's melodies go a long way in the world of golden-pop sounds. Her gentle vocals are immediately compelling and distinct, with an aggressive punch thrown in here and there. Part of her charm is the unabashedly playful nature of her music; it is lighthearted and sincere, and it urges an audience to shake their hips a little while occasional psychedelic flourishes threaten to warp your mind.
www.ashreiter.com

Cellar Doors is influenced by various forms of art, ranging from The Velvet Underground to The Stone Roses, Serge Gainsbourg to Spacemen 3, or Hitchcock to Dali. With an appreciation for both the beautiful and macabre, Cellar Doors create a unique concoction of reverberating rock & roll that washes over you like a psychedelic tidal wave. The band has shared the stage with the likes of Black Rebel Motorcycle Club, The Warlocks, Spindrift, The Whigs, Allah-Las, Gringo Star, The Records, and have been known to back local legend Cyril Jordan of The Flamin' Groovies on occasion.
**Special Guests: THEEE ROCK WOLFZ**
Down and Outlaws - If you ask what Down and Outlaws sound like, someone might mention The Stooges, Black Rebel Motorcycle Club, or Lynyrd Skynyrd. But at some level, such comparisons miss the point. Call these San Franciscans bluesy, rootsy, dirty; it doesn't really matter. Down and Outlaws are a rock and roll band, pure and simple. These days, when the definition of rock and roll is increasingly uncertain, the tight-knit quartet's energy, authenticity, and blistering live performances are impossible to ignore or forget.
Lee Gallagher and the Hallelujah - Lee Gallagher has rapidly risen to the top of San Francisco's rock scene thanks to his electrifying performances fronting The Hallelujah, an organ/guitar driven rock band whose shows transport the audience into a hazy, hip-shaking, psychedelic tent revival. Following Gallagher's solo EP "Valley of a Dying Breed," featuring the acclaimed Victoria Williams, as well as other Joshua Tree-based talent, including Bobby Furgo (Leonard Cohen) and Wally Ingram (Eric Burdon and the Animals), Gallagher and The Hallelujah recently released their debut single "Ready for the Mountain," which was recorded on Jerry Garcia's tape machine.
www.facebook.com/leegallaghersf
Down Dirty Shake - Formed in 2005, the group is deeply influenced by the soul that was the 60's. Touching on latin, psych, soul, pop and garage rock, the group's live shows are guaranteed to be an experience; always full of energy and raw emotion. Making all the soul mama's and papa's of the crowd feel good.
www.facebook.com/DOWNDIRTYSHAKE
Bonnie & The BANG BANG - Since 2011, Bonnie & the BANG BANG has been crafting its distinctive western sound in a way that summons imagery of both dusty boots and polished oxfords, endless desert highways and dimly lit bars, sometimes the swanky kind and sometimes the smokey kind.
www.facebook.com/bonniehellabangs
Joshua Cook & The Key of Now - Former lead guitarist and back-up vocalist of The Soft White Sixties, Joshua Cook is a veteran of soul-infused rock and roll. Writes the Bay Bridged: "He's an artist to the core, a creator and conveyer of passion, grace, humility. An animated and authentic storyteller. A wanderer with an eye for California and an ear for rock and roll."