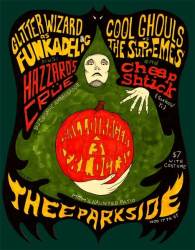 Hallorager III
Glitter Wizard as Funkadelic, Cool Ghouls as The Supremes, Hazzard's Crüe, Cheap Schtick
Cosmic Ambassador will be spinnin rekkids, MOM will be taking over the patio to prod, probe, and scare the crap out of you
Time: 9:00pm Day: Friday Ages: 21+ Ages Price: $10
This Event Has Ended
The third annual Hallorager cover show extravaganza is back at Thee Parkside. Featuring some of the Bay Area's finest bands, morphing into  bands of yesteryear sometimes even undergoing a sex change to do so. This year will feature....

Glitter Wizard as Funkadelic
Stoner Glam Metal Band Glitter Wizard have loaded into the mothership and are ready to land in your brain.

www.facebook.com/pages/Glitter-Wizard
Cool Ghouls as The Supremes
Known for their harmonizing prowess, the Ghouls are gonna tuck and morph into the beautiful sirens known as The Supremes.

Hazzard's Crüe

Motley Crüe have slithered their way inside Hazzard's Cure to play a secret show at Thee Parkside. 
Cheap Schtick
Featuring members of Oakland punk bands Sexless and Yi, Cheap Schtick is gonna blend up Cheap Trick into nice little shards that flow into your ears.

***$10 to get in...$7 with a Costume!