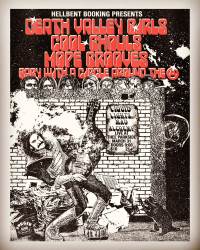 Hellbent Booking Presents:
Death Valley Girls, Cool Ghouls, Mope Grooves, Gary With A Circle Around The "A"
Liquid Lightshow by Mad Alchemy
Time: 9:00pm Day: Friday Ages: 21+ Ages Price: $10
This Event Has Ended
Hellbent Booking Presents:
Death Valley Girls
Think of Death Valley Girls as an acid-tripping science experiment that's been buried alive, and resurrected as a sexually liberated dystopian chain-gang. A cosmic scar, if you will, on the hills of Echo Park, where the experiment began in 2013 by proto-punk Bonnie Bloomgarden and guitarist Larry Schemel — who got lost in the desert, returned to their haunted garage in Echo Park, and pieced together their vision with shopworn images of sexploitation babes, a blood-soaked Iggy Pop, and Bloomgarden's series of phantasms, the result of spending a year in a mental institution, where she planned her neon-glowing odyssey by listening to Black Sabbath and UFO, reading about alien conspiracy theories, and deriving her band's moral compass from a line she saw in a movie:
Cool Ghouls 
For the uninitiated – Cool Ghouls play rock'n'roll. That's about all there is to it. They're California natives. They try to do a good job. They like to try to elevate and get far out. They also like to keep it real. They like to make friends and have a good time. They don't like bullshit. They want to keep growing and learning how to become more powerful musicians. This record reflects the discoveries they've made over the last five years about live performance, themselves, and each other. 
Mope Grooves
Portland, OR big dumb rock band
Gary With A Circle Around The "A" is the bass player for Personal & the Pizzas. He likes Babes, Pizza, Beer, Rock n Roll, Selling "Used" Cars, Being Cool, and Blowing Bubbles. His Favorite Bubblegumb is Bubblicious Paradise Punch. His favorite drink is whatever you're havin. He also likes Ritalin, Chains, Hawaiian shirts, his own chest hair, and prefers 10W 40 for his mustache. 
Favorite Car: that Firebird down the block
Favorite Slice: Anchovy and Jalapeno
Favorite Smoke: Camel Menthol 
Favorite Kinda Girl: The kinds that got boyfriends already

He currently lives in Tampa, FL selling "used" cars
soundcloud.com/burgerrecords/gary-with-a-circle-around-the-a-used-cars
Mad Alchemy 
Analog liquid lightshow in the San Francisco tradition pioneered by Bill Hamm, and Brotherhood of Light,a main stay of the 60's ballroom scene.
Facebook Event Page:
facebook.com/events/755259537977276