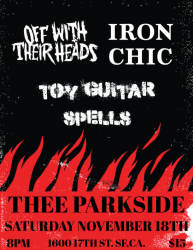 Off With Their Heads, Iron Chic, toyGuitar, Spells
Co-Headline Bill!
Time: 8:00pm Day: Saturday Ages: 21+ Ages Price: $15
This Event Has Ended
Off With Their Heads
The phrase "punk" gets thrown around a lot these days but for over a decade Off With Their Heads has eschewed trends and embodied that ethic with every ounce of their being. Having put out numerous releases and toured the country dozens of times the band are about to release Home, their best-sounding album to date which takes the group's sound to the next level without sacrificing the palpable passion that's made them underground favorites. 
Off With Their Heads is the project of Minneapolis native Ryan Young and on Home he's joined by drummer Justin Francis and bassist Robbie Swartwood, the latter of whom has been playing with the group for nearly five years. "It's hard to bring people into a full-time touring punk band because you have to be a musician not someone who is doing this for a hobby," Young admits. "An actual musician is the type of person who does this because it's what they do. Money is always nice but you have to expect nothing and still play like you care."
For their second release on Epitaph the band teamed up with one of Young's heroes, Descendents' drummer Bill Stevenson who produced the album at the Blasting Room in Fort Collins, Colorado—and the result is an album that captures the raw passion of Off With Their Heads' live shows without obscuring any of the instrumentation with a slick, studio sheen. "It was really important that this record didn't sound too polished so once we agreed on a general sound of the record it was great," Young explains. "It's definitely the best-sounding record that we've done."
Home is also the strongest collection of Off With Their Heads' songs to date and certainly the most diverse. From the instantly catchy sing-alongs of "Shirts" to straight-ahead, Ramones-influenced ragers like "Seek Advise Elsewhere" and stripped-down ballads like "Don't' Make Me Go," Home shows how much the band have grown sonically since their last release, a development that is no doubt due to the fact that the band have spent so much time on the road touring with everyone from Municipal Waste to Kind Of Like Spitting in everything from massive theaters to basements.
If there's a lyrical theme on Home, it's personal experiences whether that ranges from struggles with identity ("I don't feel like me, whatever that's supposed to be" from "Shirts") to tales from the road. However as you might expect it all comes back to the fact that for a full-time touring punk rocker the word "home" has a very unique connotation. "I think I used to take for granted the simple notion of having an apartment in Minneapolis," Young explains. "The album is about the bad feelings associated with being at home, why people leave home, and how important it is to have a good one."
Over the course of these twelve songs Young expresses that sentiment in different ways and the content on the disc explores everything from being oppressed because of one's sexuality ("Focus on Your Own Family") in addition to more personal writing that exposes Young's own misgivings about the Catholic church and the impact it's had on his family life ("Altar Boy"). Then there's a song like "Don't Make Me Go" which guest vocalist Tony Kovacs from Shot Baker summarized telling the band, "OWTH has a story and this explains a lot." Listening to the impassioned track, it's evident why this is true. 
Having toured with everyone from Bad Religion to the Dropkick Murphys, Young has learned that in order for him to maintain his ethics he tells his bandmates that "playing a show in front of 6,000 people is no different than playing a house show" and you can tell by the group's countless live performances that this isn't just lip service. "I'm proud that I have pretty much maintained my core beliefs over the years," he explains. "Opening for my heroes is cool but that's their crowd and I have always been about carving my own part through all of this."
Despite the fact that Off With Their Heads have performed everywhere from Jacksonville to Japan over the past decade, it's clear that even if OWTH never left Minneapolis they would be doing the exact same thing just as passionately. "Everything involved with this band has become larger and more successful than I could have hoped for," Young admits, citing signing to Epitaph as one of these milestones. "The only goals I have for myself and OWTH is to continue to make music that I care about, try to push myself physically and musically and continue to be able to do what I love for a living." 
Iron Chic
While the more obvious side of punk rock tends to be its discontent, New York's Iron Chicuse their melodic punk to evoke the genre's sense of community and oneness unlike any other. Formed in 2008, the band cultivated a driving and infectious sound packed with so many singalong choruses and who-oh-ohs that it's hard not to want to dive in and be a part of the action. Pair a sound like that with songs whose lyrics tackle the disappointment, angst, and uncertainty of life, and you have a virtual maelstrom of emotive and engaging punk reminiscent of bands like the Bouncing Souls.
toyGuitar 
Ready for some reprieve from the blistering heat of summer? Well, Fat Wreck Chords has the solution: a cool sonic script called Move Like a Ghost from the California combo toyGuitar! On the heels of their first full-length—In This Mess—toyGuitar continue to ride a massive wave of acclaim with the brand new EP, Move Like a Ghost. The band is built on the sunny vocals of Jack Dalrymple (whom you know and love from his long tenure in Swingin' Utters), who dragged his Utters cohort Miles Peck into the mix. The two eventually recruited their sometime Re-Volts band mate Paul Oxborrow ("In the grand and time-honored tradition of band incest," cracks Paul). To accompany the fuzzy vox, bouncy bass, and jangly guitars, the boys looked south from their Bay Area environs and pulled in the driving drum beats of Los Angeles sticks maven Rosie Gonce.
After wrapping up 2015 with their first ever visit to Japan as part of Fat Wreck Chords' massive 25th Anniversary festival show, the band quickly decided to lay down some new tracks that they had been tinkering with. As Jack explains, "We recorded the Move Like a Ghost EP with our bud, and all-around ruler, Chris Dugan over in Oakland, Ca. at Jingletown. We wrote it because we all loved the idea of a 10-inch at 45 RPM. It sounds ruling and it kinda fits our whole, not wanting to play longer than 30 min vibe, too. I personally love short and sweet records." The six songs on Move Like a Ghost are the perfect dose of toyGuitar's unique blend of fuzzy garage rock, '70s proto-punk, and undeniably melodic pop.
More than just a continuation of their first album, Move Like a Ghost sees toyGuitar succinctly dial in all the sweet spots of their brand of referential and innovative rock 'n' roll. Dalrymple expands "I think collectively what we bring to the table and the way we are on stage together, is reflective of people that love being around each other. We trust and support one another, through the good and the bad." Move Like a Ghost delivers all the charms that toyGuitar have become known for, with some pensive moments thrown in along the way. Dalrymple says, "There's a song called 'Swan' on the record, which encapsulates the sentiment of loving who you perform with perfectly. There's a song about my friend Heiko Schrepel (One Man Army) called 'Turn It Around,' which was super hard for me to write. After they were recorded, I found the whole experience to be very cathartic."
More than an EP, Move Like a Ghost is a fully formed, perfectly executed six-song record. Together, the four members of toyGuitar collaborated to churn out the most blissed-out, beautiful rock 'n' roll record you'll hear all year.
Spells has worked with Snappy Little Numbers Quality Audio Recordings, which is now on the cusp of being a household name the world over. Focused on excellence in music and packaging, SLN is dedicated to the fine art of the analog format, especially vinyl (but maybe a cassette on occasion).  "Take Time/Slice Away", SPELLS' debut 7", was a runaway hit.  "Double Cassingle" was the band's follow up effort and contained four sure-fire hits that were guaranteed* to distract you from the worst 10 minutes of your day and probably turn them into the best 10 minutes of your day.  Now the band has dropped two new releases back to back to satiate their rabid fan base. 
Once again issued by SLN,"At Sea/Land Locked" is a four song 7" EP that eases the listener in before detonating.  One side features more garage/surf inspired numbers while the other has the straight ahead punk stompers.  Of course issued by SLN, "Jet Set b/w iA Huevo!" is a cassingle that pays tribute to the band's genre, vacation rock.  Jet Set is about avoiding the van in favor of airplanes and cushy decision-making.  iA Heuvo! Is an ode to Tijuana, Mexico that the band took by storm in 2014.  In 2015, SPELLS was officially invited to play the South By South West Music Festival where they enjoyed many meals filled with BBQ and Food Trucks. While there, they also took some time to enjoy the hot tub at their hotel. What's next for the band?  Probably just the same old awesome anything they feel like doing.​
*The band makes no guarantees but thinks this scenario is realistic considering their immense artistic vision and talent