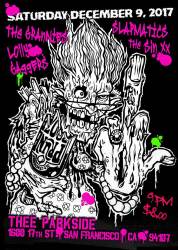 The Grannies, Slapmatics, Lolly Gaggers, Sin-Xx
Time: 9:00pm Day: Saturday Ages: 21+ Ages Price: $8
This Event Has Ended
GRANNIES - The most powerful band ever, with five sets of interchangeable laser eyeballs, macro-hydraulic Jump-a-tronic dresses, super-somgobulating automo-wigs, and an extendable Octo-claw colostomy bags.
https://www.facebook.com/TheGranniesUSA

SLAPMATICS - A tribute to the PLASMATICS and Wendy O. Wiliams (With Chelsea Rose, Beth Loudmouth, Carmela Thompson, Mike Coppertone and Eric Davis). 

LOLLY GAGGERS - A new Bay Area queer quintet bringing Dark Post Punk guitar driven garage rock. Think Flipper swapping spit with 45 Grave.
https://www.facebook.com/lollygaggers/

Sin-Xx
Debut show! 

COME EARLY! MUSIC STARTS AT 9:30 SHARP!!!!

Beth Loudmouth's and Shonzie Smith's ESCAPING SF GOODBYE PARTY!