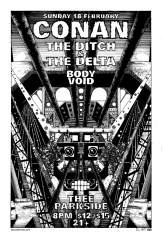 Conan (UK), The Ditch and The Delta, Body Void
Time: 8:00pm Day: Sunday Ages: 21+ Ages Price: $12
This Event Has Ended
Conan (UK)
Fresh from battle, dripping from the gore exposed by Blood Eagle CONAN return with their newest release REVENGEANCE. With inspiration taken from video games, retro sword and sorcery movies, ancient battle scenes and the hum and aroma of warm output valves they have laid down 6 songs of total heaviness, unsurpassed in their blend of brutality and tone, groove and flow. Prepare to be blown away by the heaviest Conan album yet as they hack, slash and charge their way into your subconscious.
The Ditch and The Delta 
"A sludge band hailing from Salt Lake City, Utah might feel frustrated by the environment they live in. For THE DITCH AND THE DELTA, their upcoming album, Hives In Decline, works through the suppression and alienation of everyday life... hits like a ton of bricks." - Decibel Magazine
theditchandthedelta.bandcamp.com
Body Void originally formed in the spring of 2014 as Devoid with the aim to combine the most extreme elements of hardcore punk and doom metal, bridging furious crust salvos and the crushing stillness of drone doom. In 2016 they released their debut LP, Ruins, under a new name with a renewed focus.