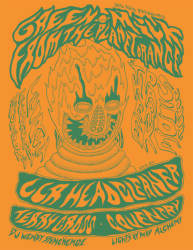 Bad Acid Presents:
Green Milk From The Planet Orange (Tokyo), CCR Headcleaner, Terry Gross, Coventry (Mondo Drag Solo Project)
Lights by Mad Alchemy
DJ Wendy Stonehenge
Time: 9:00pm Day: Thursday Ages: 21+ Ages Price: $10
This Event Has Ended
Green Milk From the Planet Orange (Tokyo, Japan) was formed by dead k, A and benjian in 2001. benjian was changed to T in 2003, then released 2 full-length album and some records, did many tours all around the us. T left in 2007, then Margarette H joined in 2008 but the band stoped at the end of 2008. and in 2016, dead k, A and the new bass player Wadamori Yu starts GMFTPO again. PROGRESSIVE ROCK IS NOT DEAD.
CCR Headcleaner 
The perfect amounts of confused clatter, slurred lines and parts where everyone headbands at the same time, all while dipping toes deep into thrash, psychedelia and clinging onto the American rock'n'roll dreams of the sixties. -Marissa Magic Maximum Rock'N'Roll
With an acid-baked aesthetic that feels totally natural and never forced, CCR Headcleaner excel at creating damaged, synapse-frying rock that definitely seems to be channeling Royal Trux in their drug addled prime. -Aquarius Records
"CCR threw down some serious sludge punk that distanced itself from the rest of the pack by incorporating thrash, garage, and bits of glam rock. For one song, I couldn't help think that CCR had clearly listened to too much Nirvana in their youth and had decided that it wasn't heavy enough or weird enough or fucked up enough. Call it dirtbag desperation. -Zack Frederick Bay Bridged
Terry Gross
New sonic excursion featuring Phil Manley, Phil Becker, Donny Newenhouse. Some of their past projects include but are not limited to Trans Am, The Fucking Champs, Phil Manley Life Coach, Pins of Light, Triclops, Hot Fog, Film School, Buffalo Tooth. 
Coventry
Solo project from John Gamino of Mondo Drag. It's time for a Tangerine Dream.  
soundcloud.com/user-455685663/live-in-oakland-2016
Mad Alchemy Liquid Lights