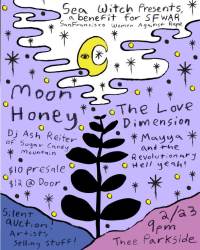 Sea Witch Presents:
Moon Honey, The Love Dimension, Mayya & The Revolutionary Hell Yeah
DJ Ash Reiter (Sugar Candy Mountain)
SFWAR Benefit
Time: 9:00pm Day: Friday Ages: 21+ Ages Price: $10
This Event Has Ended
Sea Witch Presents: A Benefit for San Francisco Women Against Rape
Moon Honey
Whirlwind virtuosity, extremes of delicacy and impact, melodies that leap all over the place, suite-like structures, cryptic lyrics based on literary conceits — all the hallmarks of progressive rock are robustly in place on "Hand-Painted Dream Photographs." —New York Times

I can see a cult forming around this band. Maybe there already is a cult in Baton Rouge, I need to get down there and join in. They're all dipping cotton candy in peyote. "The Cotton Candy Cult". 
—NPR All Songs Considered
The Love Dimension San Francisco musical collective The Love Dimension steeped itself in the music of the psychedelic era of the '60s then infused it with the sound of '90s grunge and other more contemporary influences to create "mind-expanding music" for the 21st century. Resonating with the consciousness expanding goals of the '60s psychedelic movement, The Love Dimension "creates sonic architecture for the benefit of all sentient beings across the multi-verse." A musical vision that reflects the personal journey of band founder Jimmy L. Dias who was on the path to becoming a shamanic healer when his own experiences of healing called him back to music. In 2008, while continuing his training as a healer, Jimmy set out to find the right players for The Love Dimension. 
In January 2009, Jimmy played a solo acoustic show as The Love Dimension at a dive bar in San Francisco. Local club gigs followed with a rotating line-up supporting Jimmy (guitar/vocals), Celeste Obomsawin (vocals/percussion/flute) and Raphael Wayman Davis (bass). During its first two years, the band recorded its first album, In Between Lives (2011) and several EPs and singles. Then tragedy struck with the untimely death of bass player Raphael. The next few years saw several different band lineups and the release of several recordings including albums Forget the Remember (2012) and Create and Consume (2014).

The Love Dimension's core lineup is Jimmy L. Dias (vocals/guitar), Celeste Obomsawin (vocals/percussion/flute), Amy Jane Cronkleton (vocals), Robinson Kuntz (drums), Michael Summers (bass) and Devin Farney (keyboards/vocals). The band has featured many other talented musicians such as Jacob Landry (guitar), Jeremy Walker (guitar), Joe Miller (drums), Kevin Grapski (bass), Ryan Erickson (bass/vocals), Eric Amerman (guitar/keys/drums), Ryan Scott Long (drums), Sonny Pearce (drums), Tommy Anderson (bass), Kyle DeMartini (guitar), and Sean Carney (guitar) just to name a few.

Playing bigger shows at better venues, making festival appearances (including Desert Stars, Whole Earth, Haight Ashbury Street Fair, Gathering of the Tribes), getting radio play, and the release in 2016 of the EP, Freakquency Space Mind Continuum, The Love Dimension is poised to make a move.

The Love Dimension plays in multiple configurations—from solo acoustic sets to 11-piece expanded lineups—depending on the needs of the venue and the occasion. Whatever the configuration, The Love Dimension will deliver a performance that will elevate the spirit and move the soul.
Mayya & The Revolutionary Hell Yeah
"Diminutive in stature, Gargantuan in spirit" -Mayya was born in Russia, grew up in the TL in SF. she is inspired by davidbowie, gogol bordello, iggy pop, funk music, george harrison, pretty much anything w energy and good melodies... and anyone who is unapologetically themselves! She has a band called Mayya & The Revolutionary Hell Yeah! 
DJ Ash Reiter (Sugar Candy Mountain)
San Francisco Women Against Rape