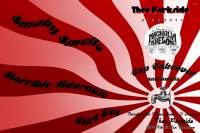 Magnolia Brewing Tap Takeover
w/ live music by: Smoky Smells, Horrible/Adorable, Dirt Lot
FREE!!
Time: 7:00pm Day: Thursday Ages: 21+ Ages Price: FREE
This Event Has Ended
Magnolia Brewing Tap Takeover!!
w/ live music by:
Smoky Smells
Psychedelic surf jams
Horrible/Adorable is a "Creamsoda Dreamsicle Poprockz" duo from Oakland, CA who likes to rock out and sparkle. Here's their story...
Once upon a time, Candice and Kiki met at a bbq in West Oakland. With an instant spark (well, a sparkle, really!), they became fast friends. They talked all evening about how they would form a band called 'Horrible/Adorable.' Candice, a new drummer, was a big ball of energy. Kiki, shy as a mouse, had never sang in front of anyone. Horrible/Adorable had their first practice four years ago and have been best band mates/friends ever since. Their songs range in subject matter from friendship and underage love to vacuum cleaners and sparkly pink bowling balls. Their EPs, 'Amy Understands' and 'Looking' Healthy!', topped the local charts as they continue to play shows all over Oakland and San Francisco. Their newest release, 'Caprice!' will be available on Hover Craft records later this year!
Dirt Lot
dreamy folk psych rock