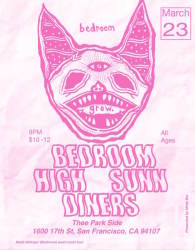 Minty Boi Presents:
Bedroom, High Sunn, Diners
Time: 9:00pm Day: Friday Ages: All Ages / Bar with ID Price: $10
This Event Has Ended
Minty Boi Presents:
Bedroom (Noah Kittinger) 
Bedroom is the indie music project for Noah Kittinger from Nashville. True to his moniker, Noah Kittinger has been able to carve out a unique sound within confines of his bedroom's four walls. Beginning with his Toys EP released in February 2012, Noah's sound has evolved over time, resulting in his first full length LP, Vivid. More recently released singles provide a window into Bedroom's future as an artist and the sound listeners can expect on his second and third full length, Grow (released on Vinyl/Cassette/Digital in 2014 on Furious Hooves) and (released on Vinyl/Cassette/Digital in 2016 on Almost Communist). Crafting songs that remain stuck in heads for days on end, his ability to consistently create beautiful, memorable music has proved to be one of his greatest strengths.
Aside from actively making remarkable sound, Noah Kittinger and his music is also well - recognized through out the states. He has multiple singles over million views on Youtube and over 21,000 month listeners on Spotify and more other platforms.
High Sunn
is an angst-driven dreampop band snuggled in the very active and unique city of San Francisco, California. The founder of the project is an emotional and innocent boy by the name of Justin Cheromiah who is surprisingly prolific at only 16 years-old.Being from the bay area, this boy has adopted a weird, but beautiful sense in creativity while composing his heartbroken dream pop poems. Since then, he has been experimenting with these sounds, trying to create something unique every release. In the end, he just wants everyone to fall in love someday. 

Diners is the stage name of guitar pop musician Tyler Broderick. They play both solo and with a full band.
Broderick released the first Diners album titled Throw Me a Ten on Snorin' Desert Tapes in 2012, later issued on vinyl by Lauren Records 2016. Broderick released the second album in 2014 titled Always Room with Lost Sound Tapes, Phat 'N' Phunky, and Diet Pop Records. In 2015, Broderick released an EP titled It's All True. In 2016, Broderick released Diners third full-length album titled Three via Asian Man Records, Lost Sound Tapes, and Diet Pop Records.