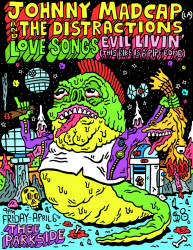 Johnny Madcap & The Distractions, Love Songs, Evil Livin' (This Bike is a Pipe Bomb)
Time: 9:00pm Day: Friday Ages: 21+ Ages Price: $8
This Event Has Ended
Johnny Madcap & The Distractions
L.A. singer, songwriter Johnny Madcap, formerly of the punk rock band Madcap, (Side one Dummy, Victory Records), has formed a new rock and roll outfit called Johnny Madcap and The Distractions. The Distractions, a group of low slung, "guitar slinger" types are the perfect compliment to Johnny's raw pop sensablities. Together, Johnny and the band are simply obsessed with one thing, - turning their shows into full-blown parties. Dancing, singing, shouting and carrying on like the world may end tomorrow.

Over the past year, Johnny Madcap and the Distractions have been hard at work recording and releasing records, filming videos and performing with such notable bands as The Bouncing Souls, The Dead Milkmen, Flogging Molly, CadillacTramps, Youth Brigade, Missing Persons and Eddie and The Hotrods. With 2 records released in 2011, EP – "Let's Get Lost" & LP "Last Man Dancing" available on Itunes, the band shows no signs of slowing down. "Goodbye Michelle," "On the Radio" and, "American Gossip" are just some of the many songs that will have you almost instantly singing along and moving to the beat. 

One listen and you won't be able to help but feel as if you've known this band your whole life. On stage and on record, Johnny Madcap and The Distractions conjure up sounds and images reminiscent of the days when pop music straddled New Wave, Punk and Pub Rock. With a dash of Tom Petty, a slice of Elvis Costello, a pinch of The Plimsouls and a handful of L.A. street wise rock and roll, this band will take your heart and soul to musically sublime places you have always wanted them to be.
johnnymadcapandthedistractions.bandcamp.com
Love Songs
Hair metal without the hair or the metal.
Evil Livin' (This Bike is a Pipe Bomb)
This Bike Is A Pipe Bomb is home to some of the most spirited songwriting and performances out there today. The Pensacola, FL trio takes its punk-rock folk around the country regularly and has contributed to several Ghostmeat releases. In 1997, the band's first release was the song "Nosey People" exclusively on Ghostmeat's All About Numbers compilation CD. Later that year, Ghostmeat released their incredibly popular debut 7" EP. In 1998, they released the song "Next Bus" exclusively on Ghosmeat's Yearbookcompilation CD. In recent years, This Bike Is A Pipe Bomb has released a number of albums on Plan-It X Records.