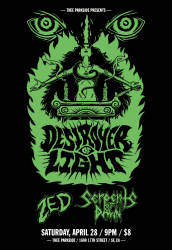 Destroyer of Light, Zed, Serpents of Dawn
Time: 9:00pm Day: Saturday Ages: 21+ Ages Price: $8
This Event Has Ended
Destroyer of Light
Formed in 2012 from constantly boiling musical cauldron that is Austin, TX, Destroyer of Light has taken a straight forward approach to tempering the disparate and harmonious parts of their influences into a total sum of slow motion tidal heaviness that bows to no altar but that of the riff. With the smoky flavors of hazed out doom and the stomping cadence of rock's heyday, the band both tickles and deafens the ears with the theatrical flashes of Mercyful Fate, the ominous tones of Electric Wizard, and the ferociously feral feedback of a Sleep dirge.
Zed
The Valley of the Riff is well inhabited and plentiful in its offerings and the beauty of its vast sprawl is that there is room for many. Making their presence well-known with heavy footprints and sonically indelible marks are San Jose-based Earth shakers ZED. A sound based on core principles of the blues, heaviness, groove, and feel this San Francisco Bay Area quartet is the genuine article, Ladies & Gentlemen. The sound is as organic as it is raw.
No bell bottoms, wizard sleeves, or hip huggers for this crew. It's a barrage of head-bobbing, air-guitaring, hip-shaking, blues-driven rock as delivered by the bastards of rock & roll. With equal appeal to the fuzz-box mercenaries, stoner-rockers safety meeting in a '74 Chevy van, and horns-thrusting metalheads pressed against the stage, this band refuses to conform or brandish a manufactured label.
Showing the maturity and confidence to explore the full gamut of their influences and what inspires them internally, ZED is set to offer their third full-length album "Trouble In Eden" with an August 26th release date on Ripple Music. "Trouble In Eden" is a literal collection of blood, sweat, and tears crafted together with raw, personal, relative lyrical content. Tales touching on religious-fueled tragedy, societal reflection, struggles with mental anguish, loss, and perseverance, this album is one for all to relate to. Drop the needle, push play, crank the knob, push the volume high and prepare to be intoxicated by the potion ZED is offering. – Dylan Dominguez-Waltz

Blasting onto the San Francisco Bay Area rock scene in 2007, ZED quickly made a name for themselves with their crushing live shows and incessant grooves. Having played together in various projects since 1998, including releasing an album with the band Stitch for Prosthetic/Metal Blade Records, Guitarist/Vocalist Peter Sattari, drummer Rich Harris and bassist Mark Aceves joined up with guitar wizard Greg Lopes to create a sound that was uniquely their own, a sound whose sole purpose was to rock, with no concern for genres, labels, classifications or rules. Drawing from their varied influences ranging from classic '70s rock, punk/hardcore, metal and old school funk, ZED writes music that grabs you, throws you around and grooves you all at once. The band has been likened to "a pissed off Led Zeppelin with Chris Cornell meets Ian Astbury on vocals," ZED writes songs that linger in your head long after you listen to them.

ZED independently released their sophomore album Desperation Blues in May of 2013, which garnered critical acclaim as well as charting on CMJ throughout the summer. Supporting the album up and down the west coast, ZED has played consistently through the fall of 2014 when they began focusing on writing their follow up to Desperation Blues, Trouble In Eden, which is also their debut for Ripple Music. ZED is excited and proud to be a part of the Ripple Music family and look forward to making heads bob and asses shake in 2016 and beyond.
Serpents of Dawn
Like CATHEDRAL and TROUBLE before them, SERPENTS OF DAWN delivers a sound that is equal parts doom and traditional heavy metal riding together atop a pulverizing 70s groove. Serpents' memorable riffs and compelling leads are provided by guitarist and founding member Kyle House. House has demonstrated a colossal aptitude for riff writing in his other band – crusty death metal destruction unit, ACEPHALIX – and his "knack for catchiness," as recognized by Pitchfork's Andy O'Connor, is on full display in SERPENTS.

House's righteous axe work is supported by the locked in rhythm section of Patrick Crawford and Michael Scanland and is rounded out by the cavernous death-doom delivery of vocalist Stephen Wallace. The sum of these collective parts is the aural equivalent of a lumbering, denim and leather clad, chopper riding beast. Think "Onward to Golgotha" era INCANTATION doing vintage LEAF HOUND covers, or CORRUPTED if they were obsessed with MOUNTAIN'S "Climbing!".

SERPENTS tapped Bay-Area underground metal production wizard Greg Wilkinson (HIGH ON FIRE, ANNIHILATION TIME, GRAVES AT SEA) to record the band's first full length. SERPENTS entered Earhammer Studios in 2017 and laid down their first full length album, "Into The Garden." These six new tracks capture the essence of the band's groove driven heavy doom style. The band is currently weighing its options for a worldwide release of "Into the Garden." Interested labels may contact that band through the channels below.