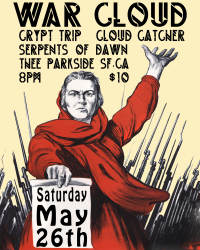 War Cloud, Crypt Trip, Cloud Catcher, Serpents of Dawn
DJ Rob Metal
Time: 8:00pm Day: Saturday Ages: 21+ Ages Price: $10
This Event Has Ended
War Cloud
Erupting in 2014, out of Oakland, California, War Cloud has been on a steady path of shredding Northern Californian ear drums. Founded by Alex Wein (vocals, guitars), who hails from Baltimore MD, he wasted zero time in recruiting area musicians after firmly planting his amps in the Bay Area. Looking to create an aural ash cloud of volcanic rock, Alex solidified this crew with Bay Area natives Joaquin Ridgell (drums) and Tony Campos (guitar), and Taylor Roach (bass).
War Cloud is a young band but far from wide-eyed innocents. Their musical history drenched in molten riffs across the timeline of heavy metal, the name alone originates from a Wicked Lady song of the same title. With roots encompassing Tony's tenure in San Francisco's heavy thrash tinged Hell Fire, Taylor's melding of hard rock rhythm and old-school groove on bass, and Joaquin pounding his drums as if possessed by the ghost of John Bonham himself. War Cloud has created a new flavor of heavy rock music for those enjoying past meals served up by the likes of Pentagram, UFO, Deep Purple, and Black Sabbath. This is modern metal sophistication dipped deep in '70's heavy fuzz rock.
Crypt Trip
Ripping psych rock from San Marcos, Texas making their first trip to the west coast! 
Cloud Catcher 
"With its gnarly odes to voodoo children and celestial empresses, Trails of Kozmic Dust finds Colorado's Cloud Catcher settling further into their swampy, vintage sound. These eight slices of bluesy psych-rock capture heavy metal at its most classic. With a record store's worth of riffs at his disposal, vocalist and guitarist Rory Rummings' extended solos—equal parts cosmic grandeur and classic rock worship—are the record's highlight. The whole album serves as a reminder that space might represent our projections of the future, but it's been there long before any of us. "We'll leave this world far behind/Believer in ancient times," Rummings sings optimistically in closing track "Righteous Ruler." And just like that, the great unknown feels a bit more familiar." - PITCHFORK 
Serpents of Dawn
Like CATHEDRAL and TROUBLE before them, SERPENTS OF DAWN delivers a sound that is equal parts doom and traditional heavy metal riding together atop a pulverizing 70s groove. Serpents' memorable riffs and compelling leads are provided by guitarist and founding member Kyle House. House has demonstrated a colossal aptitude for riff writing in his other band – crusty death metal destruction unit, ACEPHALIX – and his "knack for catchiness," as recognized by Pitchfork's Andy O'Connor, is on full display in SERPENTS.