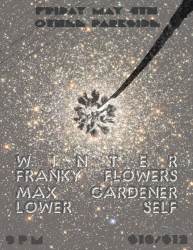 Winter, Franky Flowers, Max Gardener, Lower Self
Time: 9:00pm Day: Friday Ages: 21+ Ages Price: $10
This Event Has Ended
Winter is the project of songwriter Samira Winter, who's love for guitar music and nostalgic imagery inspired the dream pop/indie rock four piece. Samira grew up in Curitiba, Brazil listening to her American father's punk records, and her Brazilian mother's MPB (Brazilian Popular Music) tunes. While living in Boston during her college years she found a love for shoegaze which led to her collaboration with Nolan Eley who recorded and produced Winter's first EP "Daydreaming" and LP "Supreme Blue Dream". In 2013 Samira relocated to Los Angeles where the band currently resides working on their upcoming album "Ethereality." Winter aspires to connect people to their inner child by making blissful, beautiful, dream pop.
daydreamingwinter.bandcamp.com
Franky Flowers
Max Gardener makes his self-described "bedroom theme music" amidst the solitude of his bedroom, and he intends for you to hear it in the solitude of yours.
Lower Self 
Vocally driven primitive post-punk