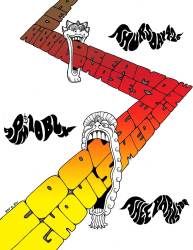 Cool Ghouls, Dream Phases, Send Medicine, Red Ribbon
Time: 9:00pm Day: Thursday Doors: 9:00pm Ages: 21+ Ages Price: $10
This Event Has Ended
Cool Ghouls
First things first: Cool Ghouls are not a retro act. If you seek musical salvation in the form of mop-topped mannequins with vintage riffs and hand-me-down rags, please stop reading. Yes, the Cool Ghouls borrowed their name from George Clinton's Funkadelic-era pre-show banter. Yes, they dwell penniless in the storied hills of culturally resurgent San Francisco. But these boys have their feet firmly planted in the soil of the now. They look not backwards for approving nods of hipster forebears, but rather skyward, hoping that the "supernatural forces" they yodel for, guide them to all corners of a half-deserving world. Truth be told, this being their first official release, they may even be a bit naïve in their dogged pursuit of the true-blue, home-spun, rock and roll lifestyle.
If one were to ascribe to them a 60's-reverent description, as one often does in the case of San Francisco bands, one would most likely find an artistic kinship with some the most inimitable, idiosyncratic, yet unmistakably influential bands of the retro-fitting oeuvre. The Troggs, The Monks, Sir Douglas Quintet come to mind immediately. (Save your Kinks and Rolling Stones references.) Like the aforementioned, the Ghouls are natural heirs to the folkloric lineage which precedes them, adding dashes of weirdness where needed. And despite their mid-fi leanings and natural fit within the current pantheon of San Francisco rock 'n roll bands (Thee Oh Sees, Ty Segall), theirs is a timeless sound, which will hopefully transcend the descriptors (garage, psych, etc.) that will undoubtedly plague it in the blogosfear. The reason being – they write good SONGS.
These young men have honed their three-headed vocal attack in front of ambitious and unexpected chord progressions, an unrelenting rhythm section, and a keen ear for harmony. Theirs is a trifecta of songwriting styles, ranging from the raspy, rambling psychedelic soul of longhair Pat McDonald ("Grace"), to the high yonder twang of bassist Pat Thomas ("Natural Life"), to the boisterous, fever-pitched, perfect pop of lead guitarist Ryan Wong. Despite the seeming disparity between styles, the Ghouls make it work. Theirs is a truly democratic song-making process, wherein all members are eager to contribute their most zealous performances. Hence, the debut record, an adventurous, colorful romp seen through the eyes of old-souled youths, feels wholly coherent and intentional. The self-assuredness of their songwriting is evident. And no, the Ghouls are not afraid to wear their influences on their sleeves; this is partly what makes the record so digestible. It doesn't claim to be anything other than what it is; a record for now, a record for then, and a record for forever.
Send Medicine
Los Angeles' Send Medicine make a woozy, psychedelic rock that combines a liberal mix of surf, folk, and blues sounds, drawing on inspirations ranging from Jefferson Airplane, The Brian Jonestwon Massacre, Britpop, TREX and Townes Van Zandt, to name a few. In 2016, the band released their debut album, Scary Aquarius Daughter, featuring the singles "July Eyes" and "Tall Flowers," which the band has toured under extensively, including the pacific northwest, SXSW, and a residency at The Satellite in Los Angeles.
Dream Phases started as the bedroom recording project of songwriter Brandon Graham. The band's name describes the colorful shifts that our goals and ambitions navigate as we experience life. Appropriately, the band was born from just such a shift in Graham's life. During short breaks between tours backing other musicians (incl: The Relationship, The Blank Tapes and Korey Dane), Graham wrote and recorded a demo album that he passed to friends. From those friends emerged the band, who debuted in 2016 and truly came to life during their Harvard & Stone residency in January of 2017.
The band released their debut EP, "Maybe Tomorrow" in 2017. The six-track recording was produced by Graham, himself, and released on lolipop records in March. "Maybe Tomorrow" was recorded at Graham's home studio, with some additional sessions done with Jason Quever and with Joel Jerome.

2017 also saw Dream Phases go on two tours. The first, in March, was a multi-date jaunt including an official SXSW showcase. The second, this past July, was part of The Mad Alchemy Trip.
Red Ribbon 
"Red Ribbon... feels like finding a cassette in a boom box, perhaps in a room by yourself off from the main party, and pressing play. They capture a feeling of discovery with songs that are beautiful and rough around the edges." -Nicole Capozziello