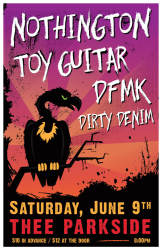 Nothington, toyGuitar, DFMK, Dirty Denim
Time: 8:00pm Day: Saturday Ages: 21+ Ages Price: $10
This Event Has Ended
Nothington 
Jay Northington and Chris Matulich formed Nothington in 2006 and it was clear from the very beginning that these
gritty anthems were connecting with audiences and the band received a great response from listeners and peers alike. They hit the road and developed a synergy that is evident on their sophomore release, Road, Bridges, & Ruins. On this release we saw the rise of co-vocalist, Chris Matulich, who brought melody and nuance to their sound, and made them contemporaries with bands like Gaslight Anthem and The Menzingers.
Armed with two songwriters and two singers, Nothington jumped to Chicago label Red Scare for 2011's Borrowed Time. This was a breakout release and by this time the band was so popular in Europe that they frequently made transatlantic trips and were getting tour offers from mainstream bands. But all the while Nothington stayed diligent to their craft and loyal to their core audience: the outsiders who sing along with beers held high.
In The End will be the first full length studio album from the band in 5 years. After playing a thousand sweaty shows and the occasional spurt of activity in the form of a 7" or a tour with The Lawrence Arms, the band went into hibernation. The guy needed to catch their breath, catch up with friends, and catch up with adulthood. But recently things have materialized and Nothington plans on making a triumphant return to Europe to celebrate the 10-year anniversary of their first album.
toyGuitar 
Ready for some reprieve from the blistering heat of summer? Well, Fat Wreck Chords has the solution: a cool sonic script called Move Like a Ghost from the California combo toyGuitar! On the heels of their first full-length—In This Mess—toyGuitarcontinue to ride a massive wave of acclaim with the brand new EP, Move Like a Ghost. The band is built on the sunny vocals of Jack Dalrymple (whom you know and love from his long tenure in Swingin' Utters), who dragged his Utters cohort Miles Peck into the mix. The two eventually recruited their sometime Re-Volts band mate Paul Oxborrow ("In the grand and time-honored tradition of band incest," cracks Paul). To accompany the fuzzy vox, bouncy bass, and jangly guitars, the boys looked south from their Bay Area environs and pulled in the driving drum beats of Los Angeles sticks maven Rosie Gonce.
After wrapping up 2015 with their first ever visit to Japan as part of Fat Wreck Chords' massive 25th Anniversary festival show, the band quickly decided to lay down some new tracks that they had been tinkering with. As Jack explains, "We recorded the Move Like a Ghost EP with our bud, and all-around ruler, Chris Dugan over in Oakland, Ca. at Jingletown. We wrote it because we all loved the idea of a 10-inch at 45 RPM. It sounds ruling and it kinda fits our whole, not wanting to play longer than 30 min vibe, too. I personally love short and sweet records." The six songs on Move Like a Ghostare the perfect dose of toyGuitar's unique blend of fuzzy garage rock, '70s proto-punk, and undeniably melodic pop.
More than just a continuation of their first album, Move Like a Ghost sees toyGuitar succinctly dial in all the sweet spots of their brand of referential and innovative rock 'n' roll. Dalrymple expands "I think collectively what we bring to the table and the way we are on stage together, is reflective of people that love being around each other. We trust and support one another, through the good and the bad." 
Move Like a Ghostdelivers all the charms that toyGuitar have become known for, with some pensive moments thrown in along the way. Dalrymple says, "There's a song called 'Swan' on the record, which encapsulates the sentiment of loving who you perform with perfectly. There's a song about my friend Heiko Schrepel (One Man Army) called 'Turn It Around,' which was super hard for me to write. After they were recorded, I found the whole experience to be very cathartic."
More than an EP, Move Like a Ghost is a fully formed, perfectly executed six-song record. Together, the four members of toyGuitar collaborated to churn out the most blissed-out, beautiful rock 'n' roll record you'll hear all year.
DFMK
Ya se la saben... Somos una banda RnR del Norte... Dirty and mean Rock n' Roll with punk rock Soul, southside del Rio Tijuana a.k.a Bad Town...
Dirty Denim 
Combining obscure sixties garage and surf guitar with 50's doo-wop, Dirty Denim brings fetishism to the impetus of sleazy rock 'n roll.

Schizophrenic front-woman & guitarist, Katie Rose (of Bomp! Records' les Hell on Heels), moved to San Francisco from Portland, OR with bassist, Laura Svec, in 2014. That's where they met and fell in love with drummer, Raquel Reyes (of the Peppermints).

Dirty Denim quickly left their mark on the Bay Area music scene and began to take the west coast by storm. Now, they headline or support large acts like: The Dead Boys (yes, the 1979 legends), Richie Ramone, Mike Watt (Minutemen), D-Generation, The Coathangers, La Luz, Shannon & the Clams, etc.

They are unfazed by the oddity of their rapid growing success — being that they haven't released even ONE full-length album yet! 

Like their song, "Hit the Wall" says, maybe they just wanna "see how far they can take it." ... maybe WE are the butt of their jokes... maybe WE are suckers... and they are only teasing us as the anticipation builds for their debut album said to drop Summer 2018. 

...Maybe we can survive just a little longer on the breadcrumbs they leave us as fans... Maybe...

Pick up their self-released "Dirty Demo" at their next show or order online to get a taste.