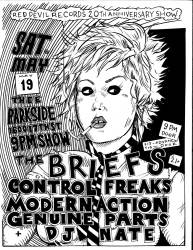 The Briefs, Control Freaks, Modern Action, Genuine Parts
Red Devil Records 20th Anniversary Show
DJ Big Nate
Time: 9:00pm Day: Saturday Ages: 21+ Ages Price: $13
This Event Has Ended
Red Devil Records 20th Anniversary Show
The Briefs
The fall of 2000 was a time of innocence. Clinton was President. The Twin Towers were still standing. And Bob Seger still had his dignity. Then the Briefs burst onto the scene like a neutron bomb with the audaciously titled "Hit After Hit" and the punk rock landscape was changed forever.

Their '77-style pop punk is loud, raucous and fierce, yet cohesive and hooky and hilarious. The Briefs are like a team of Chinese acrobats falling down the stairs on purpose. And when I say "pop" I mean popular in the broadest sense possible. The fifteen year-old mall hottie is a fan, but so is the 40 year-old stalwart with the pristine Undertones collection. Sure The Briefs wear their influences on their sleeve – Adverts, Buzzcocks, Weirdos to name just a few -- but they cop to them like junkies caught tying off in the alley with a skinny tie. They can't help it. It's in their blood. Listen you'll understand. The groove is familiar but they've got a sound that's all their own and uniquely unique. Infectious? Once they get in your ear, there's no getting them out. The Briefs are mother fucking nerve agents for a diseased life.

With their skinny ties, plastic sunglasses, matching bleach-blond dye jobs and bad haircuts, The Briefs take the stage like commandos of the New Wave, retro zombies from the Disco Inferno. Take a good look because once they start to play it's all a blur. This is their secret. It's not what they sound like or what they look like. It's their energy. They'll come to your town and electrify the place. It doesn't matter if they go on first, last or in between. It doesn't matter if it's an all- ages gig, an outdoor music fest, or a shitty little dive bar deep in the heart of Wrongville. The Briefs are one of the hardest working bands in America. They'll play any time, anywhere. They'll pile out of the van and stun the crowd like rioters at a Republican convention.

They have so much energy, it's hard to believe they're from Seattle. The city that put lattes and flannel on the map. A place so dull it's known for rain. The Briefs still make Seattle their home, but they've come a long way since their debut record, and they're still cranking out hits. They've played the Wasted Festival in the UK, the Warped Tour in the USA, and a gang of shows in between. True to their "on tour for the indefinite future" motto, they've been back to Europe where they sold out the biggest tour they've booked so far across the UK, Germany, Italy, and France and have since been back on US soil and are on their second US tour in the last 8 monthes, this time with Pyschobilly sensations, The Horrorpops and will be appearing at select dates including the 2006 Bumbershoot festival in their hometown this summer and beyond.

Years later they're still poor and still weird but their fans are so much richer for the shitload of records they've put out along way. If you're hungry for more history, BYO re-releasd "Hit After Hit" and "Off the Charts" so now you can listen to what you've been missing, but start with their newest record: "Steal Yer Heart." It's got 12 tracks of pure punk rock pandemonium. If their last record, "Sex Objects" was full of political mischief, an antidote for these tumultuous times, "Steal yer Heart" is a dysfunctional love song, a reflection of the challenges that come with spending half your life on the road.

There's the anthem-ish "Criminal Youth," the hilarious "Getting Hit on at the Bank," and the blistering "Can't Get Through." And then there's "I Can't Work" a song so nerve-jangled and strange it feels like audio panic attack. Even the newest member, Stevie Kicks of the New Town Animals from Vancouver BC, puts in a turn at lead vocals with "Forty & Above." Romance schmomance (fictional or otherwise). The Brief's new record is a platter full of anti-love songs for anyone who has ever had a bad case of rotten love. Think of it as a soundtrack for tenderhearted hooligans and sweet-as-sin heartbreakers to break up by. Just give it a spin and you'll come crawling back for more.

2007 brought even more changes to the quartet as the realities of such subject matters they've been lauded for writing about in their songs came around. Being "Poor and Weird" or knowing "I Can't Work" were becoming obstacles in each of their personal lives. After long touring stints the previous year in support of "Steal Yer Heart", the band returned to Seattle to regroup. Months later, the official "story" on what the status of the band remained a mystery until the announcement of a European tour with the Misfits in the UK and a full European tour for the fall of 2007. As a follow up to the delightful news that the band were indeed still active, the release of "The Greatest Story Ever Told", a movie about the band was announced for the fall of 2007. As a bonus, a 2nd disc will include rare live recordings of some of the bands' most popular hits. What the future holds for this band remains, to some degree, a mystery, but what is for certain is that 4 lps, countless singles, tours, and now, a DVD movie means that the band is most definitely here to stay.
Modern Action
Northern California punk rock band dedicated to bringing back the 3 guitar attack ala The Eagles and The Angry Samoans…Members of The Briefs, The Bodies, 
Control Freaks
After years of clenching our fists and throwing tantrums like they were hand grenades, Greg Lowery of The Rip Offs, Supercharger and some other jerky combos finally granted us our wish and slapped us silly with this LP from his latest no-count crew CONTROL FREAKS. Be careful what you wish for, indeed!
This is snot-caked Bay Area slime by abusive maniacs with the teen-beat on lockdown, and they will C.O.N.T.R.O.L. your last remaining brain cells! "Mindless Entertainment" got all the obnoxious pop you can handle: "Hollywood" is classic G-Lo retardation, and guitarist Natalie Sweet is making us itch sharing vocal doodies all over the album in her best Edith Bunker impression. Keep punk stupid, stupid!
slovenly.bandcamp.com/album/control-freaks-mindless-entertainment-lp
Genuine Parts
Formed in 2014 by four Bay Area women united by a love of rock n' roll, motorcycles, and the open road, Genuine Parts chew up the garage sound and spit it back out with heavy riffs and blaring guitar leads. While the band cites KISS, Girlschool and The Stooges as some of their their biggest influences, their sound is uniquely their own. Fresh off the release of their first single, the band's second EP cassette released on Southpaw Records shows the band going in a heavier direction. Stay tuned because there is a lot more to come from Genuine Parts.
DJ Big Nate