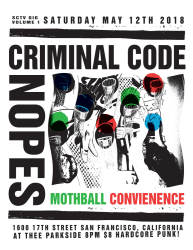 Criminal Code (Tacoma), Nopes, Mothball, Convenience
Time: 8:00pm Day: Saturday Ages: 21+ Ages Price: $8
This Event Has Ended
Criminal Code 
From the onset, they came across as straightforward sounding mid 80s Midwest hardcore styled three piece with Taiga on guitar Andrew handling the basslines. Hook filled and moodily earnest, proudly wielding a love for Husker Du. Crim Code quickly became favorites of the Northwest hardcore scene. After a handful of west coast tours and a couple of limited self released rarities, Crim Code added Miles on second guitar and Jawsh on drums…. This is where the comparisons to other acts ends.
Having saw them play three times in the past 10 days I can only describe them as themselves. Once in front of a group of black clad doom punks they came off as a tightly wound psychedelic nightmare, as if My Bloody Valentine grew up playing Middle Class covers. The next, in a room filled with knucke dragging skinheads the doomiest pop you could imagine at a deafening level. The third still a pounding set of shouted agit-punk anthems that could have been the best record SST never released. With this, their third vinyl release, and the first for Deranged they continue to push the boundaries of what it means to be a a modern hardcore punk band.
Oh yeah, and they aren't from Olympia.
derangedrecords.bandcamp.com/album/criminal-code
NOPES 
Weird Core for the MAZZess
hellanaw.bandcamp.com/album/fun-limbo
Mothball
Convenience 
Members of Iron Lung & No Statik