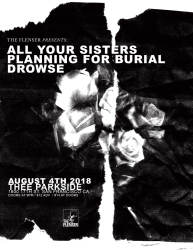 The Flenser Presents:
All Your Sisters, Planning for Burial, Drowse
Time: 9:00pm Day: Saturday Ages: All Ages / Bar with ID Price: $12
This Event Has Ended
The Flenser Presents:
All Your Sisters
"All Your Sisters take on the post-punk paradigm is decidedly non-retro. The basic building blocks are there; heavy drum machine rhythms, pumping melodic bass lines, swaths of atmospheric guitars and cold synth melodies, but where many bands are content to wallow in the shadows of their influences, All Your Sisters sounds like the future."
allyoursistersmusic.bandcamp.com
Planning For Burial
For over a decade, Wilkes-Barre, Pennsylvania-based musician Thom Wasluck has been unleashing his signature gloomy dirges under the name Planning for Burial at a nearly relentless pace. He now has three full-length albums under his belt (most notably 2017's monumental Below the House) as well as numerous EPs and splits. Wasluck writes and records everything himself and has toured extensively as a one-man band, playing hundreds of shows over the years. Both incredibly loud and intimate, Planning For Burial performs with an unrivaled passion and funereal grace that is equally at home in basements and concert halls.
planningforburial.blogspot.com
Drowse 
After a severe mental breakdown, Kyle Bates of Portland OR's Drowse was prescribed a plethora of antipsychotic drugs to subdue his paranoia and suicidal ideation. Several unmedicated years later Bates's anxiety resurfaced. He turned to Klonopin and alcohol to blanket the intrusive thoughts as a familiar depression began to settle in. It was during this time that Bates wrote and recorded Drowse's second full-length album, Cold Air. Marked by fanatical self-exploration and expansive detuned instrumentation, Cold Air is the project's first release for The Flenser.
Drowse is a peek inside the mind of Kyle Bates, the band's only full time member. Cold Air was painstakingly recorded over nine months in Bates' home. The house itself appears several times on the album in the form of field recordings and background occurrences. Although Bates himself is a secular person, his lyrics were influenced by the religious writings of Anne Carson and Karl Ove Knausgaard, whose ruminations on death correlated with Bates' own. Cold Air is an album that frames big picture ideas within intimate, often shame-ridden experiences: a nose broken while blackout drunk, a seizure followed by feverish hallucinations, a father's stroke, the death of a close friend. Cold Air is the sound of the uncertainty beneath our lives surfacing.
The shimmering dissonance with hints of slowcore, noise-pop, ambient and shoegaze that characterizes Cold Air will appeal to fans of Mount Eerie, Grouper, Planning for Burial, and Have a Nice Life. Many of these songs feature vocals from the band's creative partner Maya Stoner. Drowse is a complex and layered project set apart by its raw ambition.