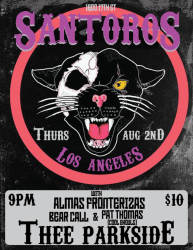 Santoros, Almas Fronterizas, Bear Call, Pat Thomas (Cool Ghouls)
Time: 9:00pm Day: Thursday Ages: 21+ Ages Price: $10
This Event Has Ended
Santoros (LA)
GARAGE SURF ROCK GET INTO IT!!!!
Almas Fronterizas
We present our Rosa Tropical EP. An album burning with the heat of a late night romance under an illuminated moon. An intense sense of groove born from something more than the streets, echoed by the familiar tone of agony and ecstasy.
Bear Call
"Back when I was young and trying to fit in with the cool kids at my high school, I thought being edgy and mysterious would lead me down the path to stardom. My ma, bless her heart, took me down to the local craft store and I bought some patches, a sewing kit and puffy paint. On our way home, I saw a guitar lying next to an old mattress and other discarded house-type items. I fell in love that day and never looked back. I brought that guitar to school for the rest of the semester. Never learned to play, no one ever paid attention to me and I sure as hell never got cool, but hot damn a baby was born outta me and I think I'm callin' it Bear Call."
Pat Thomas
Pat Thomas' from Cool Ghouls solo project. First show!