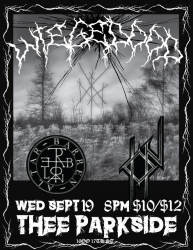 Wiegedood (members of Oathbreaker & Amenra), ION, Barren Altar
Time: 8:00pm Day: Wednesday Doors: 8:00pm Ages: 21+ Ages Price: $10
This Event Has Ended
Wiegedood (members of Oathbreaker, Amenra)
"I, II and III all focus on the subject of loss," say WIEGEDOOD in a collective statement. "It's inherently in our nature to desperately hold on to the people and the things we love. All three records are dedicated to Florent Pevée [from Kabul Golf Club], a close friend of Wim [Coppers] and a great musician who lost his life at 21. This is our way of honoring his life."

As the final part of the De Doden Hebben Het Goed trilogy—which translates to English as The Dead Have It Good—WIEGEDOOD's newest album, De Doden Hebben Het Goed III, is a natural extension of its predecessors. What the three albums share sonically—a violent yet epic brand of black metal—they also share thematically and physically. III blends the atmospherics of I and the aggression of II. The band says they've "found the perfect crossover." WIEGEDOOD have also found a four-song formula that affords the trio latitude to explore without the wearisome effects of interminable concept album lengths. And finally, the albums also benefit from similar covers—photographed by Stefaan Temmerman—where nature and the WIEGEDOOD sigil play important parts of the whole.
"Our logo represents our band perfectly," WIEGEDOOD asserts. "So, we felt that just our logo and the soil which it is planted in, would be great for theses albums. The picture for III was taken in Sint-Eloois Winkel, a small town near Kortrijk where Levy [Seynaeve] grew up. Subsequently, the cover for II was taken in De Haan, where Gilles [Demolder] spent his childhood and the first cover picture was taken in Ransberg, where Wim grew up and is still living today."

As a band that has common membership with Belgian post-black metallers Oathbreaker and post-metallers Amenra, finding time for WIEGEDOOD—pronounced We-guh-doad—isn't a challenge, but rather a directive. Time must be made and spent on behalf of WIEGEDOOD not in spite of it. Musically, the group don't see similarities in or with Oathbreaker or Amenra, however. With this distinction the Belgians are empowered to express themselves singularly. As a result, the writing sessions for III (and its predecessors) don't 'bleed over' or 'bleed through' with the band members' other projects.
ION
"Ion deal in a form of progressive, stream-of-consciousness Black Metal which merges visceral fury and immersive ambience in a manner that should appeal equally to fans of the feverish ferocity of Krallice, the psychedelic soundscapes of Orannsi Pazuzu, and the wandering atmosphere of Wolves In The Throne Room." 
Barren Altar
Black filth from the hearts of scumbags.