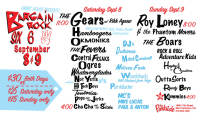 Fabric House Presents:
Bargain Rock 6: Day 1
w/ The Gears w/ Rikk Agnew, Hamboogers, Okmoniks, The Fevers, Control Freaks, Ogres, Whateverglades, Not Yetis, Hi Tech Boys, Teutonics, Pops & The Jerks, Cha Cha and The S'lobs
MC Mike Lucas; DJs Dulcinea (Midnite Snaxx), Mitch Cardwell, Melissa Funk
Time: 3:00pm Day: Saturday Ages: 21+ Ages Price: $25 - $30
This Event Has Ended
Bargain Rock 6 at Thee Parkside! 
Bands, vendors and much, much more!
Live music by:
Don't miss out on the flea market Saturday! Vamp and other vendors will be open at 3pm. 

The Gears with Rikk Agnew
They're legends. They hailed out of Southern California in 1978 and their sound epitomizes the late 70s and the early 80s Southern California punk sound. Their Rockin' at Ground Zero album is full of powerful and FUN punk songs - a timeless masterpiece after almost 40 years since its inception and if you don't own this album, you really are missing out on having fun! They make us pogo. They make us wanna grab a board and head down to the beach. SURF'S UP! 

Now joined by Rikk Agnew (Social Distortion, Adolescents, D.I.,45 Grave, Christian Death) they're going as strong as ever. We're stoked to have the Gears headline the Bargain Rock Fest before they head out to Europe. Come see them rock and roll the Elks Lodge...oh wait, Thee Parkside! 

Hamboogers
Once there was a super group called ASIA. And now let us introduce the HAMBOOGERS! The Bay Area's SUPER GROUP consists of Darin Raffaelli of the Baci Galoopis / Russell Quan of The Durty Whyte Boots / Brett Stillo of The Flakes, the Countbackwurds and Crime / Bargain Rock Fest's finest, Ben Day of The Teutonics / Doran Shelley of the Easys and the Cramps. They only practiced once so far and haven't played out in 10 years. Come see it to believe it. 

The Okmoniks
Do we love the Okmoniks or what?! When they're not slamming hot on the pinball machines in the foggy Glen Park neighborhood or teaching kids play music, they get busy knocking our pants off with blazin' pop garage tunes! If you haven't seen the Okmoniks, get ready to dance til you drop to the beer soaked floor! 

The Fevers
We can't believe the Fevers are playing! First there was the Chocolate Watchband coming out of the South Bay, and then there was The Fevers. And we lost them in the deep snow in Minneapolis for a little while there but they're back again! It's harder to see them than to spot a yeti in the Santa Cruz mountains. Get ready to be swooned! 

The Control Freaks
Led by Greg Lowery formerly of Supercharger and Rip Offs fame, he has a new pack of misfits churning out the 3 chord catchy simple punk rock that he is famous for. Always looking to put the F.U. part of of FUN back into punk rock…be sure to purchase their brand new 7" at the show too!

The Ogres
The Ogres are five guys with a message of R-O-C-K and R-O-L-L! Dueling guitars, organ, bass and a big beat, these Oakland boys were made to fill dance floors with their vocals and instrumentals. The various members have spent time in some bands of renown—The Phantom Surfers, Hi-Fives, Brentwoods, Gravys Drop, Saturn V, Purple Knifs to name but a few. 
Members:
Johnny Bartlett: Guitar
Rick Kvoriak: Guitar
Dr. Pat Phelan: Organ
Steve Faine: Bass
Billy Ribak: Drums

Whateverglades
This fine young musical group blazed out of the Oakland estuary riding high and mighty on an alligator back ready to get you swaying and the feet tapping. They're a little bit country, a little bit bluegrass and grew up on a whole lotta rock & roll as mother's milk. Get ready to dance the night away! 

Not Yetis
Hailing from the land of here, when you see these hairy monsters walk around, remember, they are human. They have feelings. One of them even has a girlfriend. Rick, Steve Faine, Lucy, & Dr. Pat pile on the harmonizing as they try to convince Kai, with music, to stop hunting them!

Hi Tech Boys
Oakland California's fastest moving storm this summer will be henceforth known as a guitarnado called "The Hi Tech Boys"! Drum man and vocalist Tony Bald once claimed he could play a three minute song in two and a half minutes. Jay "Keep Rockin" Rosen who plays bass guitar and sings has been seen at times carrying two guitars. Six String wizard and singer Billy Ribak takes the high diving approach to life and music and hits the Bull's eye every time.

This dynamic trio will begin their Bay Area campaign at the Bargain Rock Fest. You won't need a weatherman to see which way the wind blows.

The Teutonics
Hailing from Ostfriesland, the Teutonics are probably best summed up in a story...

Ein Mantafahrer hat auf seinem Beifahrersitz einen Teutonic sitzen und das Fenster offen. Er hält an der roten Ampel neben einem Mercedes. Der Fahrer des Mercedes kurbelt sein Fenster ebenfalls runter und fragt: "Kann der auch sprechen?" Darauf der Papagei: "What? Oh, dunkel!"

Pops & The Jerks
After many years of being buried under a massive amount of junk and cats and fried chicken and not learning how to speak English, these teenagers trapped in senior citizens bodies finally got their asses off the couch. 100% RAW PUNK, OLD FOLKS STYLE. 

Cha Cha & The S'lobs
After years of bath salt abuse, Shannon's voice is finally wrecked. So now, Shannon, has gotta drop the bass & sing with her new "punky" voice. The perfect way to start of another crappy "Bargain" Rock, we promise everything will be better after this. Come cheer on Shannon, and force her to finish the set, and get her life back on track from this low.