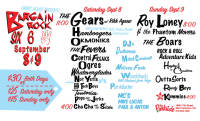 Fabric House Presents:
Bargain Rock 6: Day 2
Roy Loney & The Phantom Movers, The Boars, Hayley & The Crushers, Outta Sorts, Rowdy Boys, The Kommies
MCs Sharky & Anton: DJs Woodchuck (Tokyo), Poindexter
Time: 3:00pm Day: Sunday Ages: 21+ Ages Price: $15
This Event Has Ended
Bargain Rock 6 at Thee Parkside! 
Roy Loney & The Phantom Movers
We're very excited to have the one and only, Roy Loney & The Phantom Movers as our headliner on Sunday! 

We remember back then when we would walk right into Jack's Record Cellar in the Lower Haight and spot Roy working behind the counter or see him walking down Haight Street to grab a bite. These days it's a little harder to spot him on a whim like that, but we're lucky we can see him rockin' and rolling stronger than ever!

Bay Area native Roy Loney started playing music with his grade school buddy, Tim Lynch in the early part of the 60s before he became the frontman of the Flamin' Groovies. He then left the Groovies, leaving the song Slow Death he co-wrote with Cyril Jordan behind and continued on with his solo career. Roy then assembled the Phantom Movers and maintained the spirit of true, raw American rock & roll ever since. We love Roy, a true rock & roll hero! 

The Boars
San Francisco's '60s garage merrymakers deliver thee finest in beer-soaked rave-ups, jangle-pop nuggets, fuzz-psych stompers, and Farfisa-fueled rawk'n'roll mayhem. The Boars feature former members of The Vulcaneers, The Fells, and The Rudiments. Get in line with the swine!!

Rock & Roll Adventure Kids
Back in the Budget Rock years in the 2000's, RARAK left us all bruised up with their sweat-inducing, hyped up, chugging & screaming raw swamp thang. It got so hot in there that these guys started playing only in their tidy-whities. No guarantee they got any clothes on this time but we guarantee you to shake your body like a wild chicken!

Hayley and the Crushers
You went to the beach to get a tan but were rudely interrupted by a gaggle of leather-clad beasts feasting on beer and ho-hos under the pier. Hayley and the Crushers has already sent a chlorinated wave of electricity splashing across the West Coast. Now, the San Luis Obispo, CA trio is ready to introduce the entire party to their wet and wild brand of "poolside glitter trash. " Vinyl debut COOL/LAME (9/28/18 on Eccentric Pop Records) is proudly hip, square, and full of reverb-soaked spunk. 

With wild stage antics and warm soda pop pumping through their veins, Hayley and the Crushers is a kind of frantic fun that can only have come from California's Crusherverse. 

The Outta Sorts
Everything in this big, shabby city was growing painfully familiar. There was me, and my pals Scott and Arun sitting at our rickety table at the Brown Jug. Their band, the Runs, had punked out. Snuffed it. Sure, they played up and down the west coast, but they were itching for new kicks. Then, he walked in. Johnny, he said his name was. He threw down a road-beaten Mosrite guitar case, flipped the lid, and dealt out his past like a side show carny. Vendettas, Hate Bombs, Woggles records from Atlanta, GA. Lost Crusaders and Michael Chandler from NYC. And a one-way Greyhound ticket to San Francisco.

Arun scratched the stubble on his face with a forefinger. This is good, he said. This is trouble, Scott said. This is Outta Sorts, John said. I nodded, knocked back my three dollar shot of well tequila, and cleared my throat of the burn. -Turk Taylor, Manager

Rowdy Boys
With their twang and the gliding melody, we wouldn't be surprised if these boys were from Tennessee. Actually, they hail chicken pickin' out of the backyard of Oakland. Relax, have a beer and enjoy the Rowdy Boys. 

The Kommies
Beerwolf's been around the Budget Rock circuit for many, many years. He would come up to SF with his buddies to eat hot dogs and throw his keyboard across the room. But eventually he said bye bye to LA and hauled all his music gears and 8 track tapes and moved to San Luis Obispo and got a 3-piece band together. We know it's gonna be rockin'!